Web Mapping
A platform that knows location. Our optimized vector-based map engine is based on the latest HTML5 technology, and is the fastest map display engine available. But we also provide the most comprehensive geo location, analytics and data integration capabilities that will let you leverage legacy geo and location data. GIS Cloud supports all popular geospatial vector and raster formats, and even allows you to import spreadsheets and text data to create your cloud-based geo information repository.And because we provide the ability to project your legacy data 'on the fly', you don't need to concern yourself with map projections or other geo database complexities.We then make your legacy geo information accessible through Javascript and REST APIs so that no matter what your solution requires, you can access it from all of your applications on all of your enterprise devices.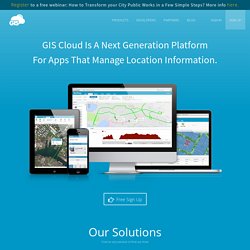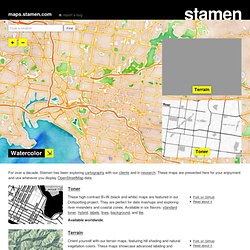 maps.stamen.com
For over a decade, Stamen has been exploring cartography with our clients and in research. These maps are presented here for your enjoyment and use wherever you display OpenStreetMap data. Toner These high-contrast B+W (black and white) maps are featured in our Dotspotting project. They are perfect for data mashups and exploring river meanders and coastal zones.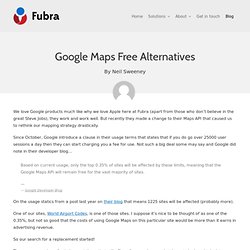 Google Maps Free Alternatives This blog post was written on Thursday 24th November 2011 by Neil Sweeney. Our staff are encouraged to blog on this site, but the views expressed are individual and do not necessarily represent those of Fubra. We love Google products much like why we love Apple here at Fubra (apart from those who don't believe in the great Steve Jobs), they work and work well. But recently they made a change to their Maps API that caused us to rethink our mapping strategy drastically. Since October, Google introduce a clause in their usage terms that states that if you do go over 25000 user sessions a day then they can start charging you a fee for use.
Google Maps Free Alternatives « Fubra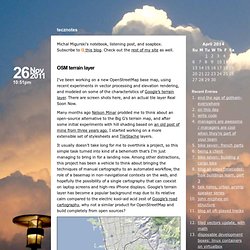 I've been working on a new OpenStreetMap base map, using recent experiments in vector processing and elevation rendering, and modeled on some of the characteristics of Google's terrain layer. There are screen shots here, and an actual tile layer Real Soon Now. Many months ago Nelson Minar prodded me to think about an open-source alternative to the Big G's terrain map, and after some initial experiments with hill shading based on an old post of mine from three years ago, I started working on a more extensible set of stylesheets and TileStache layers. It usually doesn't take long for me to overthink a project, so this simple task turned into kind of a behemoth that's I'm just managing to bring in for a landing now.
OSM terrain layer (tecznotes)
Sebastian Delmont - Google+ - Good bye, Google Maps… thanks for all the fish TL;DR: We…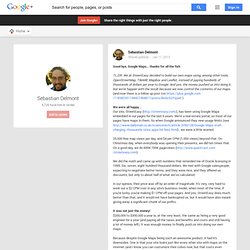 Good bye, Google Maps… thanks for all the fish TL;DR: We at StreetEasy decided to build our own maps using, among other tools, OpenStreetMap, TileMill, MapBox and Leaflet, instead of paying hundreds of thousands of dollars per year to Google. And yes, the money pushed us into doing it, but we're happier with the result because we now control the contents of our maps. (and now there is a follow up post too https://plus.google.com/118383351194421484817/posts/8x6xSQYypwt ) We were all happy...Our site, StreetEasy (http://streeteasy.com/), has been using Google Maps embedded in our pages for the last 6 years. We're a real estate portal, so most of our pages have maps in them.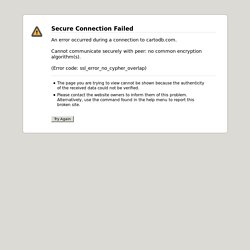 Featured use case // Volcano A great and unusual use case of CartoDB. Jositajosi, a handcrafts company established in Iceland, made a beautiful Christmas present for their customers: a notebook with a cover illustrating the Eyjafjallajökull glacier isolines. Jositajosi uploaded the isoline vectors to CartoDB to fine-tune the visualization. In the end, they produced a gorgeous map of Iceland´s elevation. Check it out! Featured use case // Wall Street Journal The WSJ uses CartoDB to visualize the state of the 2012 US Elections in its "State of the Race" map.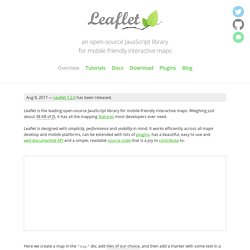 An Open-Source JavaScript Library for Mobile-Friendly Interactive Maps November 18, 2013 — Leaflet 0.7 Release, MapBox & Plans for Future (Blog Post) Leaflet is a modern open-source JavaScript library for mobile-friendly interactive maps.
This laid-back wood-clad bungalow on Cape Town's Bakoven beach oozes seaside style. The lucky owners are Cathy, Mike and their three children. A lover of bargain finds, the resourceful Cathy did the interiors herself. 'A well-known interior designer once came up from the beach and had a look, and his advice has always stuck with me – he said that the painting was outside the window and that whatever happened inside shouldn't compete with it,' she recalls. Continue reading Vintage House Daylesford is an 1860′s miners cottage on the border of Daylesford and Hepburn Springs (Australia) that is available to rent as luxury accommodation.