Web Mapping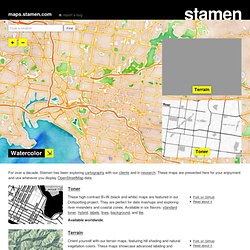 maps.stamen.com
For over a decade, Stamen has been exploring cartography with our clients and in research.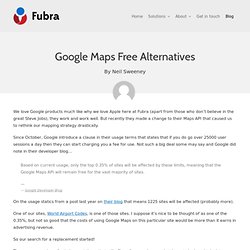 Google Maps Free Alternatives This blog post was written on Thursday 24th November 2011 by Neil Sweeney.
Google Maps Free Alternatives « Fubra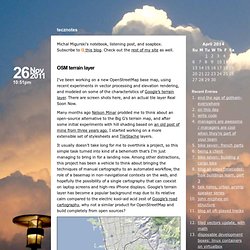 I've been working on a new OpenStreetMap base map, using recent experiments in vector processing and elevation rendering, and modeled on some of the characteristics of Google's terrain layer. There are screen shots here, and an actual tile layer Real Soon Now. Many months ago Nelson Minar prodded me to think about an open-source alternative to the Big G's terrain map, and after some initial experiments with hill shading based on an old post of mine from three years ago, I started working on a more extensible set of stylesheets and TileStache layers. It usually doesn't take long for me to overthink a project, so this simple task turned into kind of a behemoth that's I'm just managing to bring in for a landing now.
OSM terrain layer (tecznotes)
Sebastian Delmont - Google+ - Good bye, Google Maps… thanks for all the fish TL;DR: We…