Web Mapping
GIS in the Cloud | GIS Mapping Software | Visualize & Publish Maps. Maps.stamen.com. For over a decade, Stamen has been exploring cartography with our clients and in research.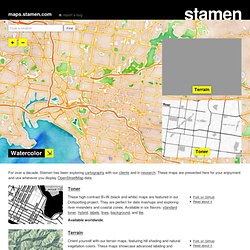 These maps are presented here for your enjoyment and use wherever you display OpenStreetMap data. Toner These high-contrast B+W (black and white) maps are featured in our Dotspotting project. They are perfect for data mashups and exploring river meanders and coastal zones. Google Maps Free Alternatives « Fubra. We love Google products much like why we love Apple here at Fubra (apart from those who don't believe in the great Steve Jobs), they work and work well.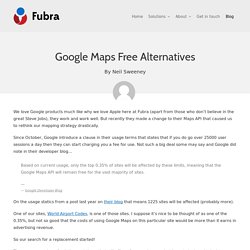 But recently they made a change to their Maps API that caused us to rethink our mapping strategy drastically. Since October, Google introduce a clause in their usage terms that states that if you do go over 25000 user sessions a day then they can start charging you a fee for use. OSM terrain layer. I've been working on a new OpenStreetMap base map, using recent experiments in vector processing and elevation rendering, and modeled on some of the characteristics of Google's terrain layer.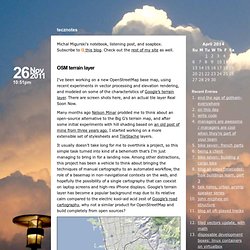 There are screen shots here, and an actual tile layer Real Soon Now. Many months ago Nelson Minar prodded me to think about an open-source alternative to the Big G's terrain map, and after some initial experiments with hill shading based on an old post of mine from three years ago, I started working on a more extensible set of stylesheets and TileStache layers.
It usually doesn't take long for me to overthink a project, so this simple task turned into kind of a behemoth that's I'm just managing to bring in for a landing now. Sebastian Delmont - Google+ - Good bye, Google Maps… thanks for all the fish TL;DR: We… CartoDB. Vizzuality | Envisioning life. Leaflet - a modern, lightweight JavaScript library for interactive maps by CloudMade. The style files. MapBox.
---