Global
GeoIQ's enterprise analytics, enhanced visualization and data support features are now available for free to all GeoCommons users. Easily find answers to complex questions and share them with the world. With increased speed, greater usability, bigger data visualization, and cross browser support, you can now animate and visualize massive amounts of data in seconds - from IE to iPad. GeoCommons enables everyone to find, use and share geographic data and maps. Easily create rich interactive visualizations to solve problems without any experience using traditional mapping tools. Visualize data from numerous sources to identify trends that were before unseen.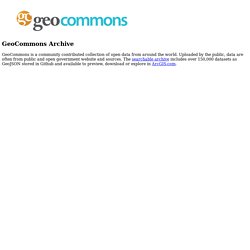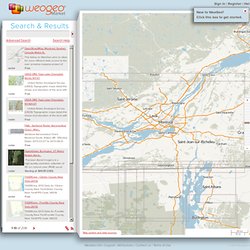 OpenStreetMap: Montreal, Quebec, Canada Metro R... This listing on WeoGeo aims to allow for more efficient data access to the ever growing mapping project of OSM. With the customization tools provided, a user can spatially select and download a custom area-of-interest and request various file formats and datum/projections. For a quick-guide on getting data from this listing, visit the OSM Wiki page. Learn more about OSM on WeoGeo and about the technical aspects of estimating file sizes for custom data selections. Date of Data: March 27, 2014Database Update Cycle: Monthly Location: Montreal, Quebec, Canada "OpenStreetMap is dedicated to created and providing geographic data, such as street maps, worldwide, for free.
WeoGeo Market
EROS Find Data
Geofabrik data Downloads
Our download server Our download server at http://download.geofabrik.de has excerpts and derived data from the OpenStreetMap dataset available for free download. Most of these files are updated every day – any change you upload to OpenStreetMap should be on our download server the next day.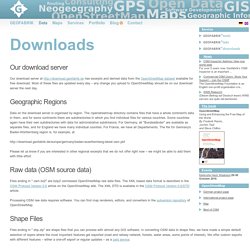 Natural Earth is a public domain map dataset available at 1:10m, 1:50m, and 1:110 million scales. Featuring tightly integrated vector and raster data, with Natural Earth you can make a variety of visually pleasing, well-crafted maps with cartography or GIS software. Convenience