Tech info Games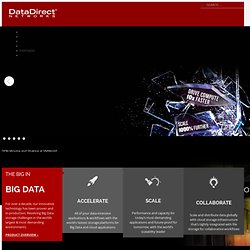 DataDirect Networks (DDN) is the world leader in massively scalable storage, data processing solutions and professional services that enable content-rich and high growth IT environments to achieve the highest levels of systems scalability, efficiency and simplicity. We enable organizations to extract value and deliver results from their information. Deployed in thousands of mission critical environments worldwide, DDN's solutions have been designed, engineered and proven in the world's most scalable data centers to ensure competitive business advantage for today's information powered enterprise. Our customers include the world's leading online content and social networking providers, high performance cloud and grid computing, life sciences, media production and security & intelligence organizations.
DDN | DataDirect Networks - Customers
DDN | DataDirect Networks - Home
Softkinetic
KINECT Games News | Kinect GAMES List | Kinect Forum | Reviews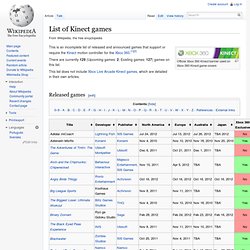 Official Xbox 360 Kinect banner used on Kinect game covers This is an incomplete list of released and announced games that support or require the Kinect motion controller for the Xbox 360 . [ 1 ] [ 2 ] There are currently 141 (Upcoming games: 18 ; Existing games: 123 ) games on this list. This list does not include Xbox Live Arcade Kinect games , which are detailed in their own articles. [ edit ] Released games
List of Kinect games
The EyeToy is a color digital camera device, similar to a webcam , for the PlayStation 2 . The technology uses computer vision and Gesture recognition to process images taken by the camera. This allows players to interact with games using motion , color detection and also sound, through its built-in microphone . It was released in October 2003.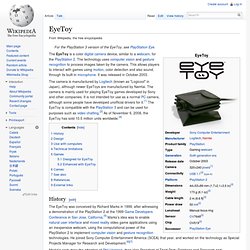 EyeToy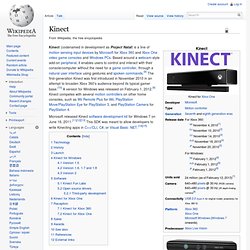 Kinect is a motion sensing input device by Microsoft for the Xbox 360 video game console and Windows PCs . Based around a webcam -style add-on peripheral for the Xbox 360 console, it enables users to control and interact with the Xbox 360 without the need to touch a game controller , through a natural user interface using gestures and spoken commands . [ 9 ] The project is aimed at broadening the Xbox 360's audience beyond its typical gamer base. [ 10 ] Kinect competes with the Wii Remote Plus and PlayStation Move with PlayStation Eye motion controllers for the Wii and PlayStation 3 home consoles, respectively. A version for Windows was released on February 1, 2012. [ 7 ]
Kinect
7103-GP0411_064