Latin America
Sunwing Airlines is Canada's leading high frills, low cost airline. Our award winning, Champagne service has been voted #1 by customers and travel agents for the last four years. Sunwing Airlines operates a fleet of over 21 aircraft and is part of The Sunwing Travel Group which is Canada's largest leisure company comprised of Tour Operators, Airlines and national retail travel agency chain, a hotel management company and a destination management company. The head office is located in Toronto with regional offices throughout Canada, the Caribbean and Continental Europe.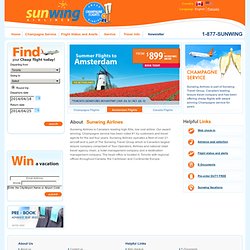 Sunwing Airlines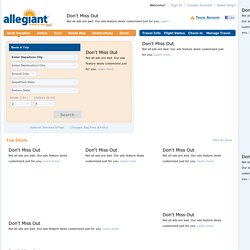 Don't Miss Out Not all ads are bad. Our ads feature deals customized just for you. Learn more. Please use the navigation instructions below to disable ad blocking in your browser. Firefox: Go to Tools >Add-Ons >Extensions >Find AdBlock Plus (or your other ad block extension) and click Disable.
Air Wisconsin Airlines Corporation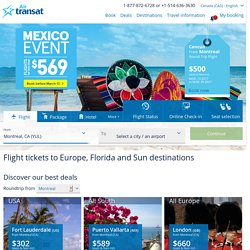 Air Transat
Sites pour agents de voyages › Agent Direct Nolitous Agent Direct Vacances Transat VAT Pro (France) Look Pro (France) Agent Direct , une nouvelle façon pour les agents de voyages nord-américains de réserver en ligne les forfaits et vols de Nolitours. Agent Direct : Facile.
BinterCanarias: Flights between the islands of Gran Canaria, Tenerife, Fuerteventura, El Hierro, La Palma, La Gomera and Lanzarote
Air Nostrum_IBERIA Regional
Airline Tickets, Airfare Deals, Seat Sales, Canada Flights - WestJet
Choose your country of residence/ Sélectionnez votre pays de résidence MAURITIUS - English Australia - English Hong Kong - English Singapore - English Austria - English India - English South Africa - English Belgium - English Italy - English Spain - English Belgique - Français Kenya - English Switzerland - English China - English Madagascar - Français Suisse - Français 中国-简体中文 Malaysia - English United Arab Emirates - English France - Métropole Mauritius - English United Kingdom - English France - Réunion Maurice - Français Other Countries - English Germany - English Netherlands - English Autre Pays - Français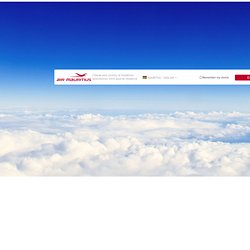 Book your ticket - Air Mauritius
ABSA Cargo Airline
LAN.com
Helicol - Pas es la compañía líder en servicios aeronáuticos integrales en Colombia. | Servirle nos hace volar
We are a full service FBO located adjacent to the El Dorado International Airport (SKBG) in Bogota D.C., Colombia supporting corporate aircraft. Quick turns on fuel, catering, cleaning and general support and no ATC delays. Line service is available with FAA A/P mechanics. We can provide Jet A fuel at excellent prices. It is only 30 minutes from the city.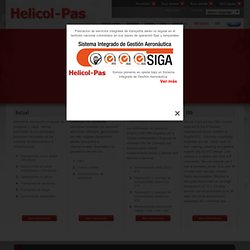 Tampa Cargo S.A.
Airlines Official Site | Flights, low airfares, hotels and car rentals
TACA Airlines Official Site | Flights, low airfares, hotels and car rentals