Energy
Veggie Van Organization
Carbon Offsets for People and Planet - Native Energy
5 Last Minute Green Holiday Gifts Give from the heart and your food shed. Visit your local farmers market or co-op to gather locally grown ingredients for easy recipes. Read more > National Geographic, REVERB and Musicians help deliver clean water to 10,000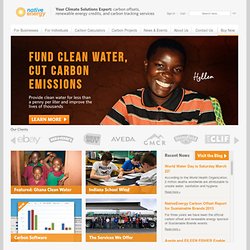 World Green Building Council
Home Energy Magazine Online
ACEEE | American Council for an Energy-Efficient Economy
McKinsey & Company - Home Page
capitolclimateaction
California Cars Initiative for Plug-In Hybrids
CalCars is a non-profit startup of entrepreneurs, engineers, environmentalists and consumers. Starting in 2002, we promoted plug-in hybrids (PHEVs) with large batteries. Local miles are powered partly or fully by electricity from standard plugs, and liquid fuel provides infinite range. PHEVs tackle energy security, jobs and global warming -- all at once. We built the world's first plug-in Prius.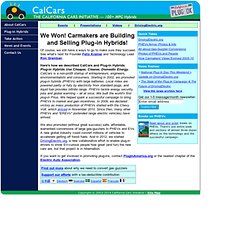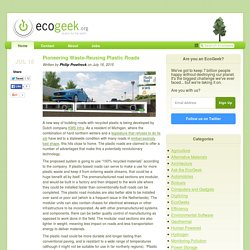 Someone has finally come up with an upcycling use for old CD discs. Din Ping Tsai, a physicist at National Taiwan University, has developed a small, low-power method for treating wastewater using UV light and zinc oxide applied to the CDs. Using old CDs as a substrate to coat with zinc oxide provides a low cost layer which can be spun as water is applied, creating a thin film of water which more effectively interacts with the photocatalytic layer of zinc oxide nanorods. In tests, the device was able to break down over 95% of the contaminants after an hour of treatment. Though this could be a wonderful application for old CDs, it's unlikely to solve the waste accumulation from billions of old CDs. The number used for this treatment system, even if it becomes widely adopted, is going to be a tiny fraction of the total production of CDs (which, at present is about 20 billion CDs per year).
ACORE | American Council On Renewable Energy
Build It Green - Promoting healthy, energy- and resource-efficient building practices in California.
Un article de Wikipédia, l'encyclopédie libre. Rayonnement solaire direct. Répartition de l'énergie solaire moyenne reçue au sol L'énergie solaire est la fraction de l'énergie du rayonnement solaire qui apporte l'énergie thermique et la lumière parvenant sur la surface de la Terre, après filtrage par l'atmosphère terrestre. Sur Terre, l'énergie solaire est à l'origine du cycle de l'eau, du vent et de la photosynthèse réalisée par le règne végétal, dont dépend le règne animal via les chaînes alimentaires. Le Soleil est à l'origine de la plupart des énergies sur Terre à l'exception de l'énergie nucléaire et de la géothermie profonde[1].