Programs
Tab Builder | Hy.ly. Lately, Hy.ly has been undergoing some considerable improvements.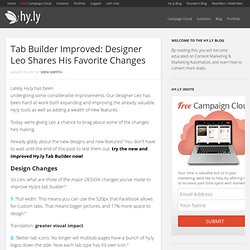 Our designer Leo has been hard at work both expanding and improving the already valuable Hy.ly tools as well as adding a wealth of new features. Today, we're giving Leo a chance to brag about some of the changes he's making. Already giddy about the new designs and new features? You don't have to wait until the end of this post to test them out, try the new and improved Hy.ly Tab Builder now! Design Changes. Tutorial: How to Create a Facebook iFrame Page Tab Application. IMPORTANT: Facebook announced that as of February 1, 2012 they are removing App Profile Pages, and the new way is pretty great.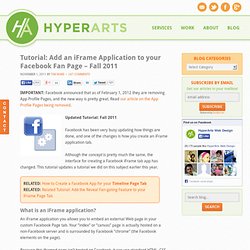 Read our article on the App Profile Pages being removed. Updated Tutorial: Fall 2011 Facebook has been very busy updating how things are done, and one of the changes is how you create an iFrame application tab. Although the concept is pretty much the same, the interface for creating a Facebook iFrame tab app has changed. Top 10 Facebook Apps for Fan Engagement and Building Community.
Are you looking for ways to better engage Facebook fans and build your community?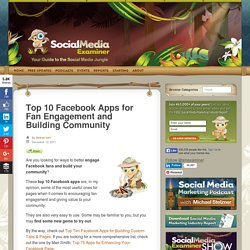 These top 10 Facebook apps are, in my opinion, some of the most useful ones for pages when it comes to encouraging fan engagement and giving value to your community. They are also very easy to use. Twitter - Product Documentation - Involver Wiki. Hy.ly | From Fans to Leads. 4 Essential Facebook Page Apps to Improve Communication With Fans.
This post originally appeared on the American Express OPEN Forum, where Mashable regularly contributes articles about leveraging social media and technology in small business.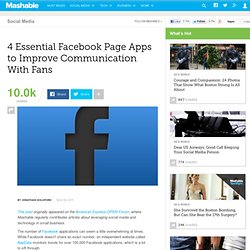 The number of Facebook applications can seem a little overwhelming at times. While Facebook doesn't share an exact number, an independent website called AppData monitors trends for over 100,000 Facebook applications, which is a lot to sift through. As a business, trying to determine which of those apps can help your organization can be daunting.
Tweets To Pages on Facebook. Fan page applications.
Ack stufffff
Richard's Top 10 Web Products of 2011. This time last year I listed my favorite Web products of 2010.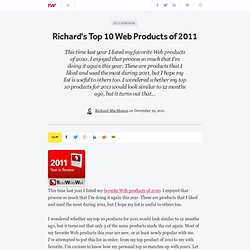 I enjoyed that process so much that I'm doing it again this year. These are products that I liked and used the most during 2011, but I hope my list is useful to others too. I wondered whether my top 10 products for 2011 would look similar to 12 months ago, but it turns out that only 3 of the same products made the cut again. Most of my favorite Web products this year are new, or at least newly popular with me. Top 5 Best Free Video Cutter Software for Windows. If you are a video editor, you will most likely have an array of tools at your disposal so having a more complete suite will mean having a good video cutter tool.
It gives you that extra freedom to just open up a simple piece of software only for video cutting usage. After some rummaging around, we have compiled a list of some of the best video cutter programs on the web. They are all quite nice software and all free too. Enjoy. PST Walker Software - Stay One Step Ahead of PST Management. Products MSG Viewer MSG Viewer is a viewer and file manager for Microsoft Outlook .msg and Outlook Express .eml messages.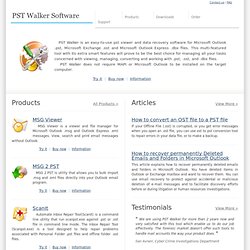 View, search and print email messages without Outlook. Try it | Buy now | Information.
---