Components
Realistic Page Flipping We did our best to give readers the feeling of reading a paper issue. A reader can flip the digital page like a real one by dragging each corner or just by quickly clicking on the side of the page.
FlippingBook ordering page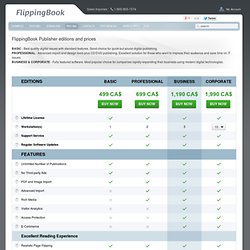 Modules Anywhere
JomSocial
eZee Foodie is based around three main features - simplicity, ease of use, and innovation. It is an innovative hospitality solution that has been expressly developed to fulfil all online food ordering requirements of restaurants and food joints. Designed to match your existing website's design to the smallest detail, eZee Foodie gels into it so smoothly even you will not be able to distinguish between the two. As restaurant owner and website administrator, eZee Foodie will let you supervise all orders placed and control all aspects of the order processing.
Features and advantages of Online food Ordering System – Order Food online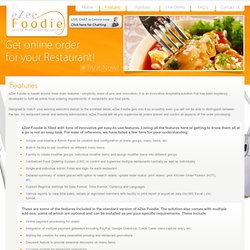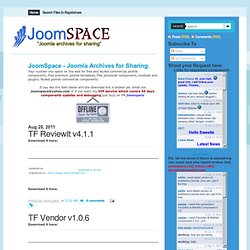 We are proud to present a new club icon set release. It includes some very nice icons: A very detailed messenger bag, different types of moleskins, a newspaper, a coffee cup and different colored paperplanes. This makes 12 icons altogether. All icons come in 32-bit transparency PNG file format and in 8 different standard sizes, ranging from 16x16 to 512x512 pixels. It makes a total of 96 newly handcrafted icons which are of course optimized for each specific size. Get the new blog icons and join the icon club!
JoomSpace - Joomla Archives for Sharing.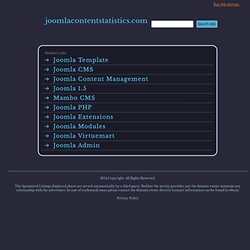 Are you interested in more than one of our extensions? Check out our combined packages and save money purchasing a bundle! What does a subscription include? During the subscription duration you have access to all files, new releases and support.
Store - Select a Subscription - Content Statistics - Graphic Statistics and Popularity Rankings System for any Joomla Contents and Extensions
jomCDN — Speed up your Joomla! site | jomCDN
jomCDN supports the following CDN services Please note: Amazon S3, Amazon CloudFront, and Rackspace Cloud Files have a minimal monthly charge.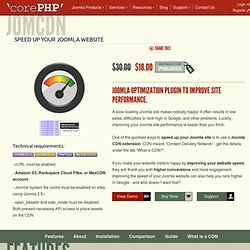 This time around, we have something that will make every Joomla site say - 'Hey why did I not have this all this time?' Introducing the Joomla 'Email Beautifier' which will help you say bye bye to all vanilla flavoured Joomla emails. How many of you have looked at the silly 'welcome email' and complained thats its so very un-cool. Gosh! I see so many hands up in the air! So here's an answer to all of that.. and more.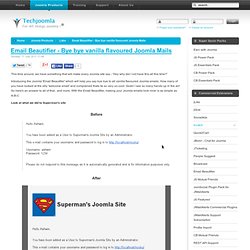 Email Beautifier - Bye bye vanilla flavoured Joomla Mails | Techjoomla Labs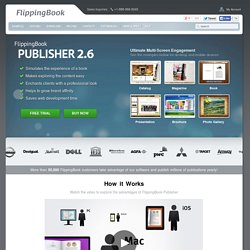 Many professional software products exist for designing magazines, building catalogs, writing documents and books, and presenting reports. FlippingBook Publisher makes your professionally created content look perfect on any desktop computer or mobile device. All you need is a document in printable format. Once you publish it with FlippingBook, phrases like "can't open", "bad zooming", and "too much time to download" become a thing of the past. You'll become used to hearing "awesome magazine", "convenient catalog", and "brilliant presentation" instead. Moreover, your content makes a bigger impression if it has a beautiful skin or contains video or sound.
Presenting information is very much like serving food – you do not serve a sirloin steak on a mouse pad. Likewise, the 2D computer screen is not the perfect plate for serving websites that appear as flat images - slideshows are best, but they seldom give the familiar feel of a magazine or book. If you prefer websites served à la livre, try FlippingBook Joomla! Gallery Component to turn your web page into a 3D folio that looks just as good as it reads. FlippingBook Joomla!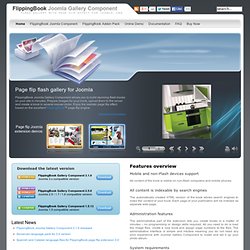 FlippingBook Joomla Gallery Component - Page flip flash gallery for Joomla. Create online portfolio, magazines, photo albums and flip books with the real page turning effect.