Musica universalis
Cake - Frank sinatra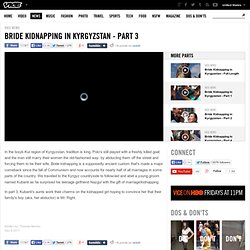 In the Issyk-Kul region of Kyrgyzstan, tradition is king. Polo's still played with a freshly killed goat and the men still marry their women the old-fashioned way: by abducting them off the street and forcing them to be their wife. Bride kidnapping is a supposedly ancient custom that's made a major comeback since the fall of Communism and now accounts for nearly half of all marriages in some parts of the country. We traveled to the Kyrgyz countryside to follow/aid and abet a young groom named Kubanti as he surprised his teenage girlfriend Nazgul with the gift of marriage/kidnapping. In part 3, Kubanti's aunts work their charms on the kidnapped girl hoping to convince her that their family's boy (aka, her abductor) is Mr.
Bride Kidnapping in Kyrgyzstan | VICE News
Two Bicycles - Alone At Sea
The Flaming Lips - The W.A.N.D. (Video)
Dinosaur Jr. "Little Fury Things"
Beck - The Golden Age
The Commodores-Brick House
Beck - Think I'm In Love
Gorillaz Slow Country
Sexual Healing
Cancer Bats - Pneumonia Hawk
Boards of Canada - Dayvan Cowboy
Falco - Rock Me Amadeus