Guitar
Blues Exercises Tabs
Adult Guitar Lessons
Records
Free Online Guitar Lessons | Guitarwarp.com
Guitar Lesson World: The Book is back in stock. Once again, you can purchase it in book or PDF form. At Guitar Lesson World, you can obtain guitar lessons on all styles and all levels.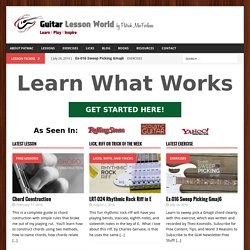 No matter where you are in your guitar playing journey, there may always come a time when you need to turn to some lessons to get some help or master a technique. At LoveToKnow Guitar, you'll find the information you need to take your playing to the next level. Instruction and How To's Sometimes the lesson you need isn't something long or time consuming. That's where the information found on LoveToKnow Guitar comes in handy.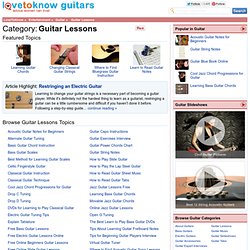 Guitar Lessons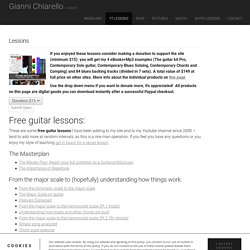 TrueGuitarist.com - Free Video Guitar Lessons
1. From the major scale to (hopefully) understanding how things work. From the chromatic scale to the major scale The major scale on guitar The major scale – position playing file Intervals explained
The Stringery | Guitar Videos, Lessons, Reviews, Tabs
Section 2 - Jazz Soloing Lesson 1 - ArpeggiosLesson 2 - Using Arpeggios in a BluesLesson 3 - Using Arpeggios over Minor ChordsLesson 4 - Diminished 7th Arpeggios Lesson 5 - Diminished 7th Arpeggios over Dominant Chords Lesson 6 - Arpeggios over a Minor Blues Lesson 7 - Lower Auxiliary Notes Lesson 8 - Upper Auxiliary Notes NEW! - Jazz Guitar Books and CDs Browse our new online store.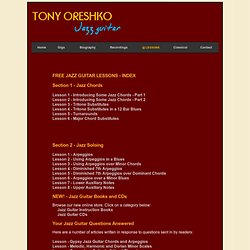 Free Jazz Guitar Lessons on Chords and Soloing by Tony Oreshko
Donations keep the site free for those that can't afford to donate! Latest Lesson Updates! TOTAL FREE LESSONS ON THIS SITE: 680 :) 14-01-14 • More cool Uke strumming, the 2 & 4 Hit. 12-01-14 • Everyone loves The Beatles, Lucy In The Sky With Diamonds 07-01-14 • Ukulele Shuffle Strumming to get your groove on 05-01-14 • Ever popular tune, Your Song by Elton John! 01-01-14 • Another bunch of Uke Open Chords for you!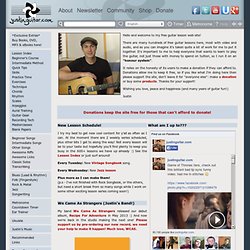 Major and minor piano chords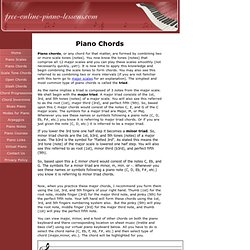 Piano chords, or any chord for that matter, are formed by combining two or more scale tones (notes). You now know the tones (notes) that comprise all 12 major scales and you can play these scales smoothly (not necessarily quickly…yet!). It is now time to apply this knowledge and begin combining the scale tones to form chords.
This simple, elegant, printable online songbook, with chords and lyrics for many of my favorite songs, began as a binder of typewritten songs that my mom assembled before I was born. When I left for college, I taught myself guitar from these songs and began adding transcriptions of more songs that I enjoy. To me, this music means something about family. To others, it's about summer camp, or the '60s, or maybe it's just about good songs. In any case, I thought I'd carry on the legacy of what my mom began and make these songs freely available to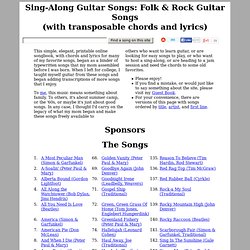 On-Line Piano Lessons
Piano Lessons for Children - Piano Lessons for Adults - Piano Lessons for home-schoolers - - Piano Lessons for people who already have a piano instructor - - Piano Lessons for people who do not already have a private piano instructor - - Piano Lesson for people who just want to review what they learned years ago - - Piano Lessons for those who want to learn a little about the piano prior to taking piano lessons with an private instructor - - Piano Lessons for those who just want to try it out - - Our Piano Lessons for those who want to learn basic music theory -