Guitar
Blues Exercises Tabs
Adult Guitar Lessons
Records
MUSIC LESSONS II Theory Reference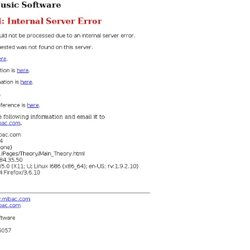 The file you requested was not found on this server. Home page is here .
Free Online Guitar Lessons | Guitarwarp.com
Guitar lessons can help you learn to play your instrument from scratch or even help you improve your technique if you already now how to play.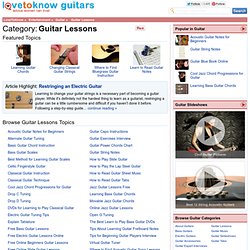 Guitar Lessons
TrueGuitarist.com - Free Video Guitar Lessons
The Stringery | Guitar Videos, Lessons, Reviews, Tabs
Section 2 - Jazz Soloing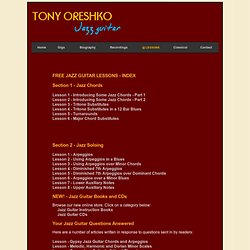 Free Jazz Guitar Lessons on Chords and Soloing by Tony Oreshko
MUSIC LESSONS II Theory Reference
Major and minor piano chords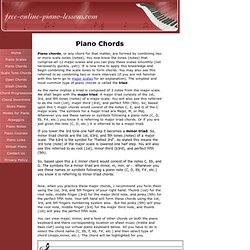 Piano chords , or any chord for that matter, are formed by combining two or more scale tones (notes).You now know the tones (notes) that comprise all 12 major scales and you can play these scales smoothly (not necessarily quickly…yet!). It is now time to apply this knowledge and begin combining the scale tones to form chords. You may also see this referred to as combining two or more intervals (remember the definition from your study of major scales).
On-Line Piano Lessons