Nails
Photo 2- Try Out These 3 Easy Nail-Art Designs
Other Recent Nail Art Stories Remember a few months back when we asked you about nail art that extended down onto your fingers? Our initial response was this was a nail art trend more bad than rad, but leave it to none other than Rad Nails themselves to make us re-consider our initial "no effing way" judgement. The company responsible for making your dream of wearing Ryan Gosling's face on your nails a reality (that sounded way creepier… Read more Okay, not to be Halloween Scrooges, but the R29 beauty department just can't seem to get in the mood to tear away from Ricky's in search of a Halloween costume this year.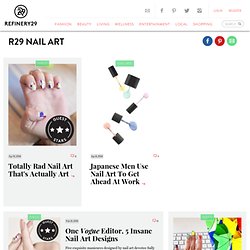 I loved how my glittery gradient mani turned out so much that I decided to do a variation on it, using the night sky as my inspiration! Here's how I did it: 1. Prep I grabbed deep navy, silver glitter, and gold glitter polish along with my favorite top coat. I also grabbed an orange stick and some nail art rhinestones.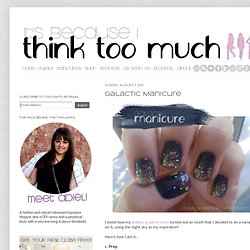 Valentines Day Water Marble Nail Art Tutorial
Smokey Gradient Nails
5 Hot Summer Nail Tutorials for Short Nails! | Life With 4 Boys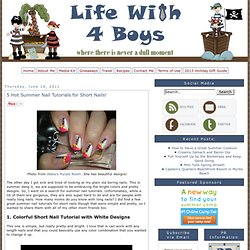 The other day I got sick and tired of looking at my plain old boring nails. This is summer dang it, we are supposed to be embracing the bright colors and pretty designs. So, I went on a search for summer nail tutorials. Unfortunately, while a lot of them are gorgeous, they are also super hard to do and are for people with really long nails. How many moms do you know with long nails?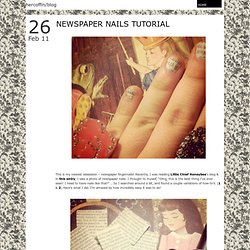 Feb 11 This is my newest obsession – newspaper fingernails! Recently, I was reading Little Chief Honeybee's blog & in this entry, I saw a photo of newspaper nails.