Référencement
Redirect Check
Outil SEO LiveOptim : Optimisez vos contenus et votre temps
Modifier le fichier hosts sous Mac OSX 10.7 Lion | iPhozape
Voici un petit tuto pour vous expliquez et montrez une vidéo screenrecorder pendant la modification du fichier 1. Modifier le fichier hosts seulement pour restaurer en une version ultérieure ex. du 4.3.1 à 4.2.1 downgrade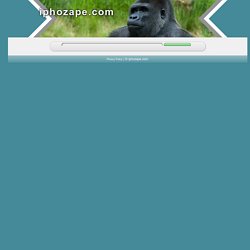 Easily find your website's broken links Faster than ever - v4 (Release Candidate) handles larger sites quickly and without slowing down Scans your site checking for broken links - fast and accurate Check images as well as all internal and external links See problems at-a-glance highlighted in colour.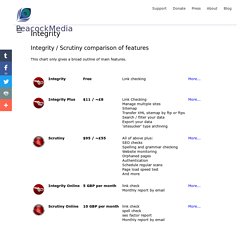 Integrity - website link checker for Mac OSX
SpyOnWeb.com Research Tool — You Can Disclose Websites With The Same Google Adsense Code, Google Analytics Code, Ip Address etc.
30 SEO Resolutions for 2012
Like most people, SEO practitioners reflect on the past year and attempt to improve their skills in the new year. If you haven't made up your mind what exactly you want to change in the coming year, check out these suggestions for 30 SEO resolutions for 2012 that draw on modern industry best practices and growing trends.
A Collection of 47 Helpful Google Search Operator Queries
To be honest, from my school days of using Google right up to today, the search engine giant has not once stopped impressing me.
Web Site Migration Guide - Tips For SEOs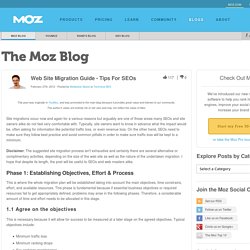 Site migrations occur now and again for a various reasons but arguably are one of those areas many SEOs and site owners alike do not feel very comfortable with. Typically, site owners want to know in advance what the impact would be, often asking for information like potential traffic loss, or even revenue loss.