Iphone
Opera Mobile Store is one of the leading mobile app stores & digital application distribution platform for the developers of mobile apps in the world, it provides over 80,000 apps and games for more than 6,000 different mobile phone models across most platforms: Android, Java, Symbian, BlackBerry, Windows Mobile, and iOS. Users can access the Opera Mobile Store from any mobile browser. The Opera Mobile Store developer portal not only welcomes mobile developers to publish their apps to multiple platforms at once, but also provides a promotional platform for their apps.
Opera Publisher Portal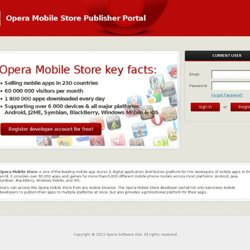 To compete with thousands of iPhone apps in the App Store, having a good app icon is not enough. A nicely designed website for the app is very important. A beautiful website helps to drive traffic in and also makes your app stand out from the crowd.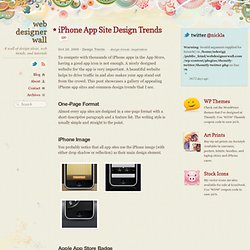 iPhone App Site Design Trends
Download Center - Weather Widgets, Add-Ons, Tools
AccuWeather Shines on UWith AccuWeather on U, you'll never miss a severe weather alert again. Your accurate and localized forecast is always in view as you browse the web on U. Get your radar, maps, and videos in a click. The AccuWeather ToolbarThe AccuWeather Toolbar displays your local weather information with easy, convenient access through your web browser. Download the Toolbar today for free and start choosing the weather information for your favorite locations. FREE Weather for Your SiteDownload FREE AccuWeather Widgets today and deliver the world's most accurate weather forecasts to your readers and customers.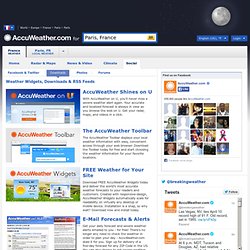 Sencha Touch Kitchen Sink The Kitchen Sink is an app that showcases all of the UI widgets, data features, animations, themes, and touch events offered by Sencha Touch. The app also features an easy way to view the live source of each demo — making it a great introduction to the framework. The Kitchen Sink works on both phones and tablets and can also be previewed in any WebKit-based browser, such as Apple Safari or Google Chrome.