Tattoo
Tattoo Design Gallery - Downloadable Tattoos - Free Ideas for Tribal, Butterfly, Dragon, Fairy, Flower, Star, Celtic, Lower Back, and More Tattoos
Instant Access...NO Membership Fees! Beware of websites that ask for money before you can even view a single tattoo design. Tattoo Johnny is the PROFESSIONAL'S CHOICE. The most widely used tattoo stencils in the world.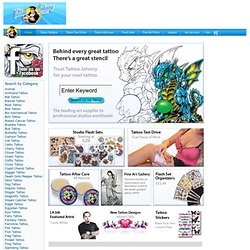 PRICK Magazine - Tattoos - Tattoo, Piercing, and Music Lifestyle Magazine
Our website gets you and your tattooist on the same page before you even walk into the shop, getting you the tattoo you actually want, and saving you both time and money in the process! Be smart: Take all the time you need to search, save, download, and print. No regrets. Be confident: All of our designs are made to be Tattoo Friendly® and always come with stencils.
Tattoo Designs – Largest tattoo gallery online. Ideas and art pictures for Tribal, Celtic, butterfly, cross, fairy, flower, lower back, dragon, sun, star, armband tattoos & more.