Mike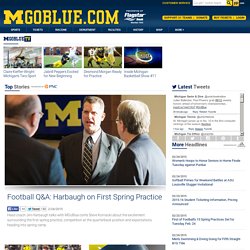 1/12/2014 - Coach Barnes Arico | Player Reaction Four Wolverines scored in double figures, led by Siera Thompson's 16, but with the game tied at 65, Michigan State went on an 8-2 run and netted eight free throws to pull out a 79-72 victory. More [+] 1/12/2014 - Andrew Copp's first-period power-play goal temporarily tied the contest, before No. 14 Wisconsin pulled away to prevail, 3-1, and earn the series sweep over the ninth-ranked Wolverines.
Michigan, Big Ten Release 2013-14 Football Conference Schedules - University of Michigan Official Athletic Site
April 6, 2011 • Fan Autograph Session (April 8) PARK RIDGE, Ill. -- The Big Ten Conference Office and the University of Michigan Athletic Department jointly announced today (Wednesday, April 6) the conference schedules for the 2013 and 2014 football seasons.
Strengths Homepage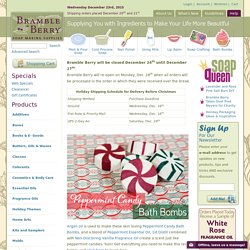 Bramble Berry® Soap Making Supplies offers an extensive selection of soap & toiletry making products for everyone from the weekend hobbyist up to high-volume professional soap makers. As you can probably tell, we are pretty excited that spring is here. The days are growing longer and warmer which always makes us happy around here. To celebrate the season we created these great Melt & Pour Massage Eggs featuring a couple of delightful springtime scents, Eden's Garden and Sweet Pea! This project also features Oat Extract, widely used to soothe the skin and the perfect preparation for the upcoming sunshine. Free Soap LabelsCheck out our newest template design, a series of cigar style bands in warm tropical colors.
Weird houses full of 'WTF'
Beautifully creepy abandoned wooden home (14 photos
It's easy to get lost on the internet among the millions of useless websites and the couple dozen or so good ones. Unfortunately, some of the few good ones go way under the radar, and you've never even heard of them, let alone visit them. Ranging from practical and educational to just plain fun, these are sites you'll want to bookmark. 10. Zeer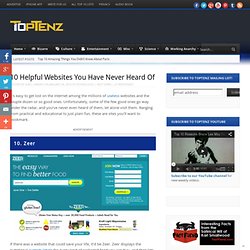 ScrnShots: Share your inspiration