Twitter 1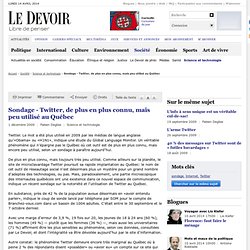 Twitter.
Sondage - Twitter, de plus en plus connu, mais peu utilisé au Québec
feedback tool for creating online polls and surveys#googtrans(en|fr)
Case Study - EPC Cigar, a Start-Up, Using Twitter to Build Buzz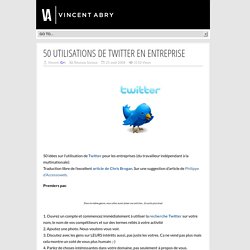 50 idées sur l'utilisation de Twitter pour les entreprises (du travailleur indépendant à la multinationale): Traduction libre de l'excellent article de Chris Brogan. Sur une suggestion d'article de Philippe d'Accessoweb. Premiers pas: 1.
Chefs Take to Twitter to Vent
flocking.me - search tweets from just your friends
The Top 10 Most Important Tweets of 2009 | buzzmarketing daily
L'engouement médiatique autour de Twitter est certain mais du fait de sa relative jeunesse peu d'études avaient été publiées jusqu'à maintenant à propos de cet outil de micro-blogging.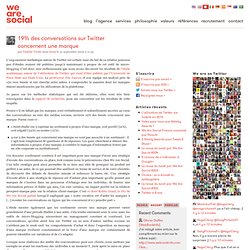 http://wearesocial.net/fr/blog/2009/09/19-des-conversations-sur-twitter-concernent-une-marque/
La semaine dernière, Frank Sherlock, le président de Convergys Corp. était à Londres pour une conférence au cours de laquelle il a annoncé qu'un commentaire négatif sur Twitter, Facebook ou YouTube pouvait provoquer la perte de 30 clients.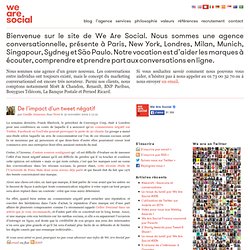 De l'impact d'un tweet négatif / we are social
Twitter Trackbacks for PNP Communication Center | Portable North-Pole [portablenorthpole.tv] on Topsy.com
Did we learn anything from the Nestle Family Twitter-storm? | Crunchy Domestic Goddess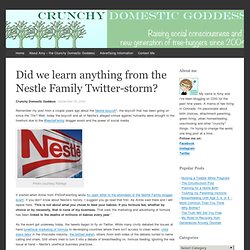 Remember my post from a couple years ago about the Nestle boycott*, the boycott that has been going on since the '70s?
Recently, I spoke to a trade association about social media, and of course, about Twitter. Later in the day, I ran into some attendees who still felt really clueless about Twitter, and wondered how to even get started.
#1 Tips for Twitter Newbies | Web Ad.vantage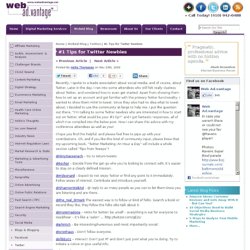 est un nouveau service gratuit qui vous permet de recevoir des alertes par mail sur des mots clés qui apparaissent sur des .
Listiti, un Google Alerte pour les listes de Twitter | Descary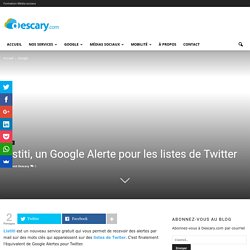 Fort Hood Shootings (FtHoodShootings) on Twitter
Alltop - Top Twitter News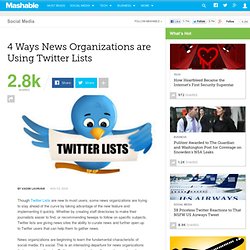 Though Twitter Lists are new to most users, some news organizations are trying to stay ahead of the curve by taking advantage of the new feature and implementing it quickly. Whether by creating staff directories to make their journalists easier to find, or recommending tweeps to follow on specific subjects, Twitter lists are giving news sites the ability to curate news and further open up to Twitter users that can help them to gather news. News organizations are beginning to learn the fundamental characteristic of social media: it's social. This is an interesting departure for news organizations that were primarily using Twitter as a service for self-promotion, such as the case with ESPN, whose social media policies serve ESPN efforts first. Or like policies of The Wall Street Journal, which were criticized for being too restrictive. The list of ways news organizations are using Twitter Lists is expanding.
http://mashable.com/2009/11/03/news-twitter-lists/
http://holykaw.alltop.com/how-newspapers-are-using-twitter-lists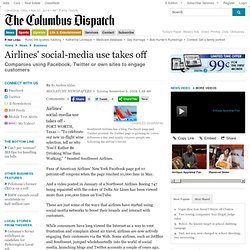 http://dispatch.com/live/content/business/stories/2009/11/01/wrk_airlines_social_media.ART_ART_11-01-09_D3_LVFH7SQ.html?sid=101
By By Andrea Ahles McCLATCHY NEWSPAPERS Sunday November 1, 2009 5:48 AM Charles Dharapak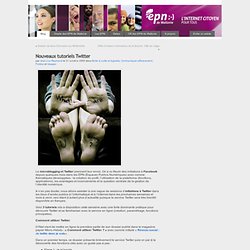 Centre de Ressources des Espaces Publics Numériques de Wallonie : Nouveaux tutoriels Twitter
Le microblogging et Twitter prennent leur envol. On a vu fleurir des initiations à Facebook depuis quelques mois dans les EPN (Espaces Publics Numériques) avec comme thématiques développées : la création du profil, l'utilisation de la plateforme (fonctions, applications), les avantages et inconvénients et la question centrale de la gestion de l'identité numérique. A n'en pas douter, nous allons assister à une vague de sessions d'initiations à Twitter dans les lieux d'accès publics à l'informatique et à l'internet dans les prochaines semaines et mois à venir, ceci étant d'autant plus d'actualité puisque le service Twitter sera très bientôt disponible en français.
In a recent post on my blog I listed "28 Reasons Why The CEO Is Afraid Of Social Media" which received comments from around the world from consultants and advocates within companies, about their experiences and the feedback they had received from management and CEO's, including an aside from a reader from Romania who sent me a message on Twitter "@jeffbullas ..Your article was a trauma therapy for me. You wouldn't believe the bullheadedness of Romanian CEOs". So here are some tips, hints and resources to assist you in convincing "Management To Enter The 21st Century?" … do I hear the sounds of kicking and screaming from the boardroom? Note: This can be used if you are an external consultant to a company or if you are trying to convince your management to embrace the "New Digital Age". 1.
9 Ways To Convince The CEO To Use Social Media and Enter The 21st Century « Jeffbullas's Blog
Adam Hertz on TuneIn Search
http://www.marketnews.ca/blog/TheDosandDontsofTwitter.html
Les outils de veille dans Twitter, l'embarras du choix | rezopointzero.com
tweetweek's Channel
Advertisement Smashing Magazine has been on Twitter for about a year now (@smashingmag), and it turned out to be a great medium to communicate with our audience, build connections, discuss design-related topics and give away some nice prizes. However, even a year later, we still don't have a Twitter background page and now is a good time to change that. So because we decided to create our own Twitter page, we wanted to first find out how other designers do it and what tips and techniques they use to create a truly outstanding, beautiful Twitter page.
http://www.michelleblanc.com/2009/10/26/techtoctv-twitter-comment-reseauter-reciprocite-trouver-son-audience/
Twitter started with simplicity in mind. Founded in 2006, Twitter started out as a text message service that allowed users to quickly communicate with a small group.
Teens Adopting Twitter | Brian Solis - PR 2.0
The Science of Retweets on Twitter | Brian Solis - PR 2.0
The Top 100 Twitter Publishing Tools and Services | Brian Solis - PR 2.0
http://www.socialmediatoday.com/SMC/119962
http://www.twittown.com/twitter/5-reasons-your-company-needs-be-twitter
Agenda
http://smallbiztrends.com/wp-content/uploads/2009/07/smbiz-twitter-tips-2.pdf
Twitter: le soleil brille, les oiseaux chantent
: L'univers Twitter | Société
Tracking Influence in Twitter | Web Analytics Demystified | Audience Measurement and Web Site Analysis Consulting
Mike Wilson Plane Crash