Resources
Mesurer. The Future of Public Relations and Social Media. This series is supported by Gist.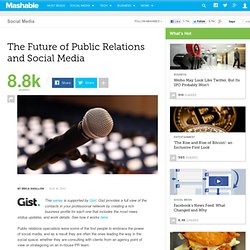 Gist provides a full view of the contacts in your professional network by creating a rich business profile for each one that includes the most news, status updates, and work details. See how it works here. Public relations specialists were some of the first people to embrace the power of social media, and as a result they are often the ones leading the way in the social space, whether they are consulting with clients from an agency point of view or strategizing on an in-house PR team. In the past decade, the Internet has had a huge impact on how PR professionals function. As of late, social media is changing the face of PR, as well. Public Relations students and PR professionals come together on Twitter for #PRStudChat.
A recent blog post by Deirdre Breakenridge, Author and President, Director of Communications at PFS Marketwyse, has developed into an opportunity for Public Relations students and PR professionals to exchange ideas, discuss questions and build relationships "Is PR Right for me?"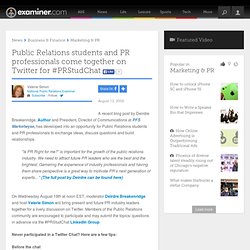 Is important for the growth of the public relations industry. We need to attract future PR leaders who are the best and the brightest. 25 social media sites for entrepreneurs. If you're an entrepreneur who has been seduced by social media tools such as Twitter, LinkedIn or Facebook, you may realize the benefits of using these basic tools to finding and staying in touch with business partners, employers and customers, along with learning new information.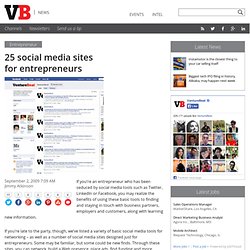 If you're late to the party, though, we've listed a variety of basic social media tools for networking – as well as a number of social media sites designed just for entrepreneurs. Some may be familiar, but some could be new finds. Through these sites, you can network, build a Web presence, place ads, find funding and more. Corporate Social Media Policies Ebook. Tools to Boost Your Social Media Productivity » SocialOomph.com. Top 10 Blogs to Read to Avoid Looking Like a Social Media Fool : Media : Technology. Don't want to look like a social media fool?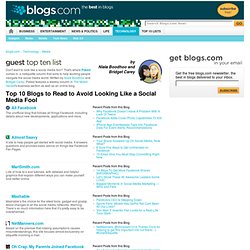 That's where Poked comes in: a netiquette column that aims to help working people navigate the social media world. Written by Niala Boodhoo and Bridget Carey, Poked features a weekly column in The Miami Herald's business section as well as an online blog. All Facebook. Guide sur les médias sociaux par Wellcom | LE MARKETING SUR LE WEB. Présentation du guide sur les médias sociaux : Publié par l'agence Wellcom, ce guide sur les médias sociaux est, selon moi, très complet.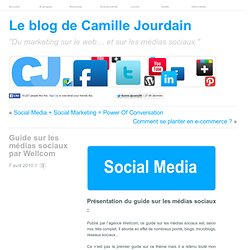 Il aborde en effet de nombreux points, blogs, microblogs, réseaux sociaux… Ce n'est pas le premier guide sur ce thème mais il a retenu toute mon attention, vous comprendrez pourquoi en lisant la suite de l'article. Social media news, strategy, tools, and techniques.
---