Recrutement
5 Ways to Market Your Brand on LinkedIn. Linda Coles is the author of the book Learn Marketing with Social Media in 7 Days (Wiley) and is a social media speaker and consultant at Blue Banana.
LinkedIn provides plenty of marketing opportunities, but lets take a look at some of the lesser-known tools. Although not all are free, try making room in your budget for a few simple and effective marketing strategies. 9 Ways Students Can Use Social Media to Boost Their Careers. Kate Brodock is executive director of digital and social media at Syracuse University, where she leads efforts in the space.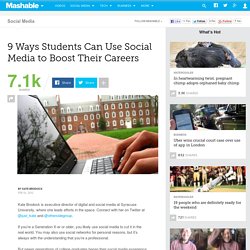 Connect with her on Twitter at @just_kate and @othersidegroup. If you're a Generation X-er or older, you likely use social media to cut it in the real world. You may also use social networks for personal reasons, but it's always with the understanding that you're a professional. How Businesses Use Social Media for Recruiting [INFOGRAPHIC] Savvy job seekers have turned to digital and social media tools to help them in their job searches, and now recruiters are on board with the power of social media as a recruiting tool.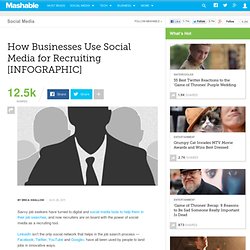 LinkedIn isn't the only social network that helps in the job search process — Facebook, Twitter, YouTube and Google+ have all been used by people to land jobs in innovative ways. And interesting takes on the digital resume are increasingly popular, with job seekers creating infographic resumes, video resumes and other visual resumes that set them apart from other job applicants. Employers are taking note of the importance of social media in the recruiting process, and the majority of businesses are turning to social media to find and evaluate job candidates, according to this infographic compiled by Career Enlightenment, a resource for online job seekers. Take a look and let us know what you think of using social media to find a job. At Twitter, The Future is You! Marché de l'emploi: le curriculum vitæ déclassé par le portrait numérique des candidats.
Ça devait arriver!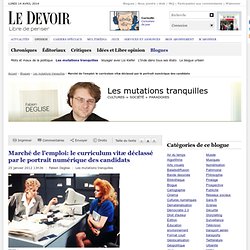 En matière de recherche d'emploi, le bon vieux curriculum vitæ vient de prendre un coup de vieux. À preuve, cette récente campagne de recrutement pour combler un poste d'analyste financier au sein de la compagnie d'investissement Union Square Ventures (USV) aux États-Unis. [Infographie] Comment les entreprises utilisent les médias sociaux pour recruter.
---