Recettes
7 Ways To Become Healthier Today. Blue zones -- like areas in Italy, Japan, Greece, California, and Costa Rica where the people have traditionally stayed active to age 100 or older -- are some of the healthiest in the world.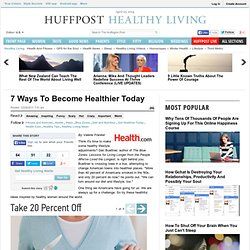 "In every Blue Zone, they eat less than we do, by at least 20 percent," Buettner says. One trick for slashing portions: "Instead of putting big platters of food at the center of the table, fill each plate at the counter," Buettner says. More from Health.com:Little Ways to Lose Big Pounds25 Ways to Cut 500 Calories a DayAmerica's Healthiest Superfoods for Women. Dr. Patricia Fitzgerald: Warm Up, Slim Down and Get Healthy With Delicious Winter Soups. Winter is officially here.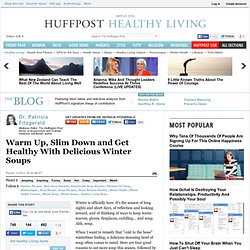 It's the season of long nights and short days, of reflection and looking inward, and of thinking of ways to keep warm: scarves, gloves, fireplaces, cuddling... and soup. Ahh, soup. When I want to remedy that "cold to the bone" wintertime feeling, a delicious steaming bowl of soup often comes to mind. Zucchini Cakes to Fool Crabcake-Lovers. Poulet rôti façon Gordon Ramsay | maman.
---