Photos
Free Images for Blogs and Social Media. Mountain hiking photo from iStock Images are not optional for any serious blog or social media account, but it can be hard to find free quality images on a regular basis.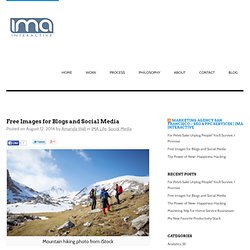 These are the resources I use to populate our clients' blogs and social media accounts when we don't have our own photos. Sites That Provide a Few Free Images on a Recurring Basis Several stock photo sites put up 1 to 3 free images for blogs per week. I've made it part of my Monday morning routine to bounce through these websites and download all of the free images. 5 free photo sites for bloggers. If you are like most bloggers, you have a hard time finding quality, affordable photos you can legally post.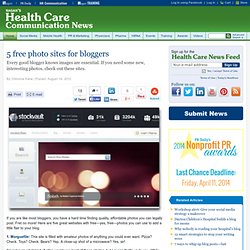 Fret no more! Here are five great websites with free—yes, free—photos you can use to add a little flair to your blog. 1. Morguefile: This site is filled with amateur photos of anything you could ever want. Protection des photos sur Internet : protéger ses photos. Tout photographe, qu'il soit amateur ou professionnel, publiant ses photos sur Internet est un jour confronté au problème du vol de ses images, pourtant réprimé sévèrement par la loi (en France en tout cas !)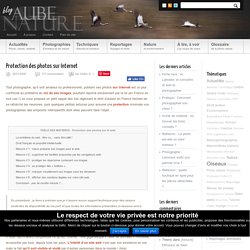 Je vous propose un petit rappel des lois régissant le droit d'auteur en France histoire de se rafraîchir les neurones, puis quelques petites astuces pour assurer une protection minimale vos photographies des emprunts intempestifs dont elles peuvent faire l'objet… En préambule : je tiens à préciser que je n'assure aucun support technique pour des raisons évidentes de disponibilité de ma part, et que toutes les informations présentées ci-dessous sont à prendre comme telles et ne sauraient engager ma responsabilité !
Le problème du web : être vu… sans être pillé ! Il nous faut d'abord comprendre ce qu'est Internet : une gigantesque « base de données » mondiale, accessible par tous, depuis tous les pays. R f rencer vos photos sur le web - Louis Mouchet, des images et des mots. Résumé: Alors que les parents célèbrent joyeusement le Nouvel An, Isabelle et Raphaël (8 ans) font une fugue.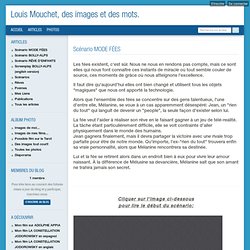 Issus chacun d'une famille troublée, ils ont un rêve fou: aller en Afrique pour se marier. Ils n'iront pas plus loin que l'aéroport, mais, avant de se quitter, ils font le serment de se marier quand ils seront grands. Vingt ans plus tard, leur vie prend des chemins bien distincts. 7 Tips for Designing a Successful Photo Contest. Luis Sanz is a co-founder of Olapic, a company that helps brands and online publishers crowdsource photos on their site or Facebook fan pages to create a more engaging user experience.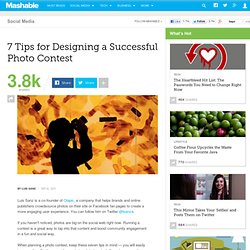 You can follow him on Twitter @lsanza. If you haven't noticed, photos are big on the social web right now. Running a contest is a great way to tap into that content and boost community engagement in a fun and social way. TinEye Reverse Image Search. Commons.
---