Mumbai
BBC NEWS | dot.life | A blog about technology from BBC News | Twitter - the Mumbai myths. BBC NEWS | The Editors. Mumbai, The BBC, and Why Immediacy Isn't All That | Pistachio. The Mumbai Terrorist event has clearly shown us that we have moved to a culture of immediate news consumption.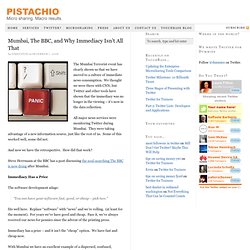 We thought we were there with CNN, but Twitter and other tools have shown that the immediacy was no longer in the viewing – it's now in the data collection. All major news services were monitoring Twitter during Mumbai. They were taking advantage of a new information source, just like the rest of us. Some of this worked well, some did not. And now we have the retrospective. Mumbai attacks: residents unite in 'Black Badge' movement.
Published scoops | IndiaTalks: Ideas for a Better India. Conversation about Mumbai and Terrorism. SJSU Indian Student, Faculty and Alumnus Discuss Mumbai AttacksEdupodder Podcast Episode 32A campus perspective from San Jose State UniversityOn December 3, 2008 San Jose State University student Ruchi Binjola, SJSU History Lecturer Rajiv Khanna and SJSU graduate Kamlesh Kudchadkar discuss the recent bombings in Mumbai, India with SJSU Journalism Lecturer Steve Sloan.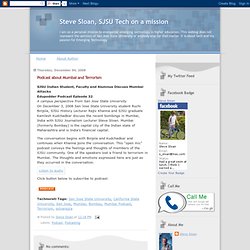 Mumbai (formerly Bombay) is the capital city of the Indian state of Maharashtra and is India's financial capital. The conversation begins with Binjola and Kudchadkar and continues when Khanna joins the conversation. This "open mic" podcast conveys the feelings and thoughts of members of the SJSU community. One of the speakers lost a friend to terrorism in Mumbai. The thoughts and emotions expressed here are just as they occurred in the conversation. Commentary: How social media shared pain and rage of Mumbai. A whole lot of questions are being asked about whether the Twitter #mumbai feed was citizen journalism or not.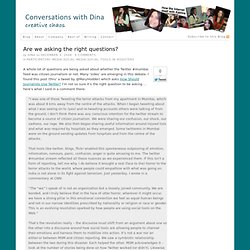 Many 'sides' are emerging in this debate. I found this post (thru' a tweet by @MaryHodder) which asks How Should Journalists Use Twitter? I'm not so sure it's the right question to be asking … here's what I said in a comment there: Mumbai. Mumbai Fights | Under Attack. » Twitter: Lessons from Mumbai#comment-14789. As a news junkie, and one with an interest in global terrorism, I was glued to my computer monitor for a large part of the almost 60-hour siege at the historic Taj Hotel in Mumbai and the related terror attacks.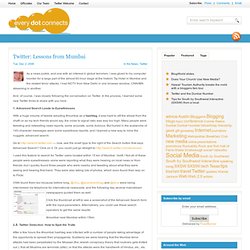 I had NDTV from New Delhi in one browser window; CNN/IBN streaming in another. And, of course, I was closely following the conversation on Twitter. In the process, I learned some new Twitter tricks to share with you here. 1. Commentary: How social media shared pain and rage of Mumbai. By Dina Mehta Special to CNN Editor's note: Dina Mehta is an ethnographer, social media consultant and blogger based in Mumbai, India.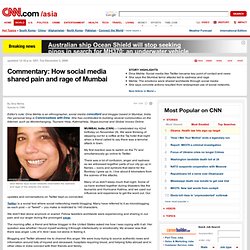 Her personal blog is Conversations with Dina. She has contributed to building several communities on the Internet, such as Worldchanging, Tsunami Help, KatrinaHelp, SkypeJournal and Global Voices Online.
---