Media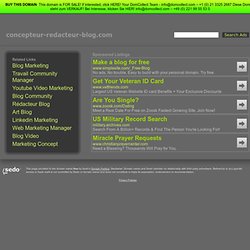 157 millions de visiteurs uniques. C'est ce que YouTube reçoit mensuellement. Et alors ? Je vous propose d'aller au-delà des a priori sur YouTube, positifs comme négatifs, pour poser les bonnes bases d'une stratégie s'appuyant sur la plateforme de partage vidéo. D'une part, YouTube est encore trop peu intégrée dans les dispositifs digitaux des entreprises (la faute à une méconnaissance des opportunités, à une vision marketing et à une culture du contenu trop conventionnelles…). D'autre part, YouTube n'est peut-être pas l'évidence pour développer une content strategy performante.
Événement Webcom : la mort du Rocky Mountain News
Réveil matinal en ce jeudi 22 octobre, je suis arrivée à 7h00 à Webcom pour aider à installer le booth. NVI est enfin prêt à l'événement. Les conférences paraissent très intéressantes, ce qui rend le choix difficile. Après quelques dures négociations avec mon collègue, me voici en salle Medias 2.0 en train d'assister à l'étude de cas sur le Rocky Mountain News , une présentation qui nous est donnée par John Temple. Commençons tout d'abord par resituer les éléments. Pour ceux qui ne le savent pas encore, le Rocky Mountain News est un journal d'actualité du Colorado créé en 1859.

Online PR Tips
There have been some remarkable changes in the media landscape over the past few years. These changes have affected the way people connect with one another, how they communicate with each other and how they find information and news. The practice of Public Relations is about reaching out to stakeholders and building relationships. It's about communication and consumption of information and news. For the last 100 years we've been using mass media, but we're rapidly learning that online media is our future.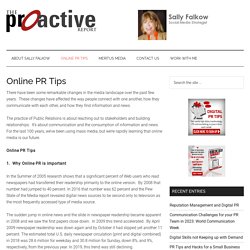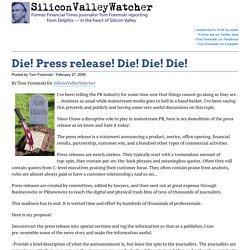 Die! Press release! Die! Die! Die!
Posted by Tom Foremski - February 27, 2006 I've been telling the PR industry for some time now that things cannot go along as they are . . . business as usual while mainstream media goes to hell in a hand basket. I've been saying this privately and publicly and having some very useful discussions on this topic. Since I have a disruptive role to play in mainstream PR, here is my demolition of the press release as we know and hate it today: The press release is a statement announcing a product, service, office opening, financial results, partnership, customer win, and a hundred other types of commercial activities.
When news organizations use – and abuse – social media | BrianManzullo.com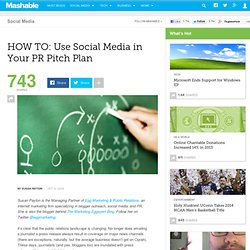 HOW TO: Use Social Media in Your PR Pitch Plan
Susan Payton is the Managing Partner of Egg Marketing & Public Relations , an internet marketing firm specializing in blogger outreach, social media, and PR. She is also the blogger behind The Marketing Eggspert Blog . Follow her on Twitter @eggmarketing . It's clear that the public relations landscape is changing.
loading the help center... <div class="noscript center"> Sorry, Javascript is required for the help center.<br /><meta http-equiv="refresh" content="5; url=/app/utils/log_error/et/0/ec/6/callback/http%3A%2F%2Fhelp.linkedin.com%2Fapp%2Fanswers%2Fdetail%2Fa_id%2F35227%2Ffrom_auth%2Ftrue">You will automatically be forwarded to your destination in 5 seconds, or click <a href="/app/utils/log_error/et/0/ec/5/callback/http%3A%2F%2Fhelp.linkedin.com%2Fapp%2Fanswers%2Fdetail%2Fa_id%2F35227%2Ffrom_auth%2Ftrue">here</a> to continue. </div>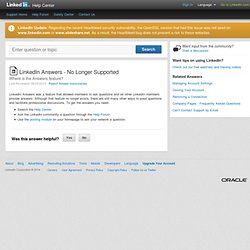 If you're new here, you may want to subscribe to my RSS feed . Thanks for visiting! One of the more interesting aspects of the interactive Web for journalists is the ability to connect with readers directly through social-networking sites. I really believe journalists have just begun to see the value of social networking as a reader-interaction, news-gathering and news-dissemination tool. In 10 years, I suspect, we'll look back and wonder how we ever covered out communities without social networks. This post will explain to journalists eager (or not so eager) to try social networks, how to get started.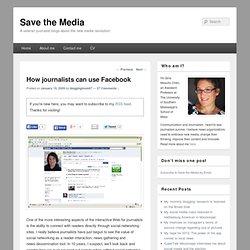 How journalists can use Facebook | Save the Media
Finding sources is easier than ever when almost everyone you know is connected to you online. On Friday, a friend of a friend received an unsolicited message on Facebook from a reporter at a top national daily newspaper who was writing an article on layoffs. This acquaintance updated his status to read "Chad just got laid off" or something to that effect. So it got me thinking – is locating sources on social networking sites a growing trend for journalists?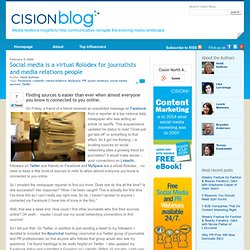 Social media is a virtual Rolodex for journalists and media relations people
Are Journalists Really On-Board With Social Media?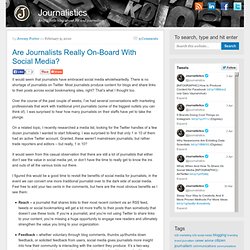 It would seem that journalists have embraced social media wholeheartedly. There is no shortage of journalists on Twitter. Most journalists produce content for blogs and share links to their posts across social bookmarking sites, right? That's what I thought too.
Social media: Here's how reporters can use it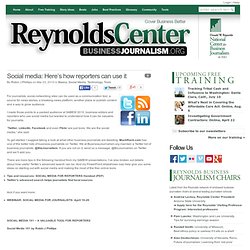 For journalists, social-networking sites can be used as a communication tool, a source for news stories, a breaking-news platform, another place to publish content and a way to grow audience. I made those points to a packed audience at SABEW 2010, business editors and reporters who use social media but wanted to understand how it can be valuable for journalits. " Twitter , LinkedIn , Facebook and even Flickr are just tools.
Reporters Use PR Professionals to Verify Information Found on Social Media Sites « Vanguard Communications InSites | Blogging for Social Change
A recent study conducted by Cision and Don Bates of The George Washington University's Master's Degree Program in Strategic Public Relations found that a majority of reporters and editors turn to social media when conducting research for their stories: Among the journalists surveyed, 89% said they turn to blogs for story research, 65% to social media sites such as Facebook and LinkedIn, and 52% to microblogging services such as Twitter. The survey also found that 61% use Wikipedia, the popular online encyclopedia. The study also found that the reporters and editors using social media outlets for their research understood the need to verify all of the information that they find. Eighty-four percent said social media sources were "slightly less" or "much less" reliable than traditional media, with 49% saying social media suffers from "lack of fact checking, verification and reporting standards.
The Real Results series is supported by Gist , an online service that helps you build stronger relationships. By connecting your inbox to the web, you get business-critical information about key people and companies. See how it works here . Journalists are, by nature, crafty folk who are wonderfully adept at stalking — I mean, finding sources and relevant information for various and sundry stories. Well, the advent of social media has made the process of reporting all the more nuanced, and has served as a vital channel for everything from finding leads to contacting sources to sharing and furthering one's brand.
How Journalists are Using Social Media for Real Results
Carel Pedre est journaliste haïtien. Sur Twitter
gestiondecrise.ca Le blogue gestiondecrise.ca de Steve Flanagan, consultant en relations publiques qui s'était fait connaître à titre de porte-parole pour Hydro-Québec lors de la crise du verglas, présente une vidéo sur la concurrence des médias. Un commentaire qui traite notamment de la génération de nouvelles comme denrée commerciale et de publicisation des scoops avant leur sortie.
La concurrence entre médias chez Steve Flanagan
L'affaire Hugo Dumas: les cendres retombent | Axon Post
Nouvelle guerre entre blogueurs et journalistes...permanents! - L'événement sur le Web - Médias
Voici la différence fondamentale entre les journaux papier dont on nous parle tant ces temps-ci. J'aurais pu dire "casser les oreilles" au lieu de "parler" tellement le (faux) débat fait encore rage, surtout depuis que Hugo Dumas y est allé d'un élan nostalgique rempli de vérités ET de fausses perceptions, disons-le... "L'amour rend aveugle" comme écrivait Michelle Sullivan à ce sujet (Voir plus bas).
Journaux papier et Internet : question de SUPPORT ?
Les nouvelles sont éternelles
Quand le quotidien La Presse méprise la blogosphère
Lettre à Hugo Dumas - Angle mort
News | Media News | News media not dying, just disoriented: study
Exclusif: Internet, second média d'information des internautes québécois - Actualités techno - Internet
http://www.techcrunch.com/2008/05/25/pr-secrets-for-startups/
Free Internet Press Release Services
River of Opinion:  The Nation
How to Create and Distribute a Social Media Release
Study Examines The Impact Of PR On News