Etudes de cas
Get flash to fully experience Pearltrees
With the Behind The Social Media Campaign Series , supported by Oneupweb, Mashable took an in-depth look at the makings of eight innovative social media campaigns from Ford, Mattel, Internships.com, Old Spice, Toy Story 3, Edge Shaving Gel, The Voice and Buffalo Wild Wings.
Today, social media is a buzz word to many brands, but to the Gatorade team at High Road it's our way of life. A successful social media program is proactive, highly engaging and integrated. Without these elements, a brand can fall flat online.
Social Media Reputation , a popularity index that ranks brands across social media, released its list of the top 50 brands.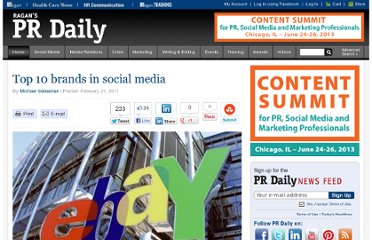 Companies establishing a social media presence may make some missteps. Some of the brands known for their social presence, including Best Buy and Starbucks , can point to mistakes made along the way and to what the brand learned from it. It's understandable.
Communications corporatives
Social media is the thing right now. It provides a way to connect people of similar (or dissimilar) interests from around the world. Social media also provides networking tools for professionals and even for job hunters.
There is no lack of focus on social media success stories, even though we keep talking about the same ones (e.g. Old Spice, Dell, Starbucks, Dunkin' Donuts, etc.) over and over again.
Social Media Case Studies & Examples
Relations gouvernementales