Www.equitas.org
Mozilla Firefox. TrueTube. Religion & Ethics - Audio/video. Public Service Podcasting. 10-04-2008 (Paris) UNESCO releases a series of 9 video podcasts on human rights, peace, tolerance and the fight against discrimination.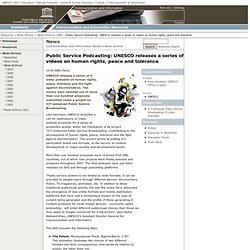 The videos were selected out of more than one hundred proposals submitted under a project on ICT-enhanced Public Service Broadcasting. Last biennium, UNESCO launched a call for submissions of video podcast proposals for a series of production grants, within the framework of its project "ICT-enhanced Public Service Broadcasting: Contributing to the development of human rights, peace, tolerance and the fight against discrimination". This project aimed at putting ICT, particularly brand new formats, at the service of content development on major societal and development issues. More than one hundred proposals were received from fifty countries, out of which nine projects were finally selected and produced throughout 2007. Equitas - International Centre for Human Rights Education. Championing Independent Journalism. Mozilla Firefox.
Kjerstin Erickson's Dream. Vidéo du Dimanche: Playing for Change • Marketing des Médias Sociaux et Vidéo Internet • Laurent Maisonnave. Le portail de l'espoir et de la solidarité du monde.
Vidéos. Enduring Voices Project, Endangered Languages, Map, Facts, Photos, Videos. New Talking Dictionaries The Enduring Voices team is pleased to announce the launch of Talking Dictionaries, giving listeners around the world a chance to hear some of the most little-known sounds of human speech.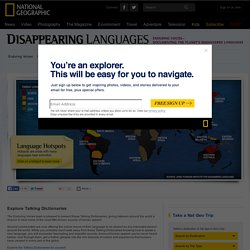 Several communities are now offering the online record of their language to be shared by any interested person around the world. While you probably won't walk away from these Talking Dictionaries knowing how to speak a new language, you will encounter fascinating and beautiful sounds--forms of human speech you've never heard before--and through them, get a further glimpse into the rich diversity of culture and experience that humans have created in every part of the globe. The Hub.
---