Consumer
3 Shoe Brands Kicking Butt With Social Media. The Digital Marketing Series is supported by HubSpot, an inbound marketing software company based in Cambridge, Mass., that makes a full platform of marketing software, including social media management tools.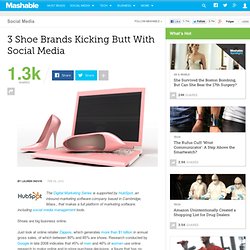 Shoes are big business online. Just look at online retailer Zappos, which generates more than $1 billion in annual gross sales, of which between 80% and 85% are shoes. The 2012 Grammys Embrace Digital, Mobile and Social. The 54th Grammy Awards ceremony is only eight days away and the Recording Academy is kicking off the next phase of its digital and social campaign.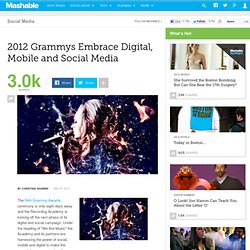 Under the heading of "We Are Music" the Academy and its partners are harnessing the power of social, mobile and digital to make the award show more modern than ever. The Recording Academy made the decision to invest in social and digital media several years ago (you can read Mashable's past coverage of the 2010 and 2011 campaigns) and the organization and its awards show are now seeing the dividends. Big time.
UK
Epic Social Media Fail: Hey Buddy, It's Always About the Service. Winners - Vibrant Awards 2011. Vibrant Awards 2012 coming soon!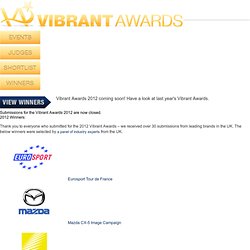 Have a look at last year's Vibrant Awards. Submissions for the Vibrant Awards 2012 are now closed. 2012 Winners: Thank you to everyone who submitted for the 2012 Vibrant Awards – we received over 30 submissions from leading brands in the UK. The below winners were selected by a panel of industry experts from the UK. The intersection of social media utility & interest - DaveJones.ca - How well do the top brands participate in social media? UK-based social media consultancy Sociagility (founded by my former H&K colleagues Niall Cook and Tony Burgess-Webb) have issued an interesting scorecard called the Sociagility Top 50 that shows how the world's top 50 brands rank in relation to how well the participate in social media.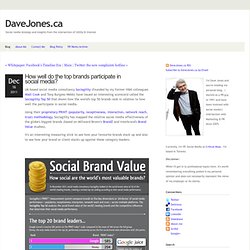 Using their proprietary PRINT (popularity, receptiveness, interaction, network reach, trust) methodology, Sociagility has mapped the relative social media effectiveness of the globe's biggest brands (based on Millward Brown's BrandZ and Interbrand's Brand Value studies). It's an interesting measuring stick to see how your favourite brands stack up and also to see how your brand or client stacks up against these category leaders. How to ruin your reputation in one email thread: The Ocean Marketing story. Friday Feature - FIDO Friendly's Social Media Success Story. This week's Friday feature is all about how a niche publication boosted their visibility and increased subscriptions by integrating Facebook and Twitter in their marketing.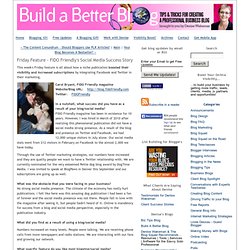 Carol Bryant, FIDO Friendly magazineWebsite/Blog URL: FIDOFriendly In a nutshell, what success did you have as a result of your blog/social media? FIDO Friendly magazine has been in existence for 10 years. However, I was hired in March of 2010 after realizing this phenomenal publication did not have a social media strong presence. Social Media Marketing by the Numbers. Social media marketing is all the rage.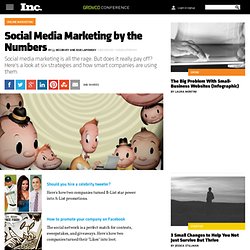 But does it really pay off? Here's a look at six strategies and how smart companies are using them. IMAGE: Bill Mayer. 26 Ideas For Facebook Fan Exclusives. Facebook marketers are constantly faced with the daunting task of growing a page's fan count with no budget.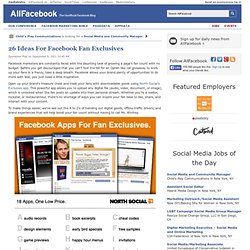 Before you get discouraged that you can't foot the bill for an Oprah-like car giveaway to work up your fans in a frenzy, take a deep breath. Facebook allows your brand plenty of opportunities to do more with less, you just need a little inspiration. Open up your brand's treasure chest and treat your fans with downloadable goods using North Social's Exclusive app. This powerful app allows you to upload any digital file (audio, video, document, or image), which is unlocked when the fan posts an update into their personal stream. Red Bull: Facebook Fan Page Example in Detail #5.
Continuing the series of 26 Facebook Fan Page Examples in Detail, I have taken a closer look at Red Bull's Facebook Fan Page.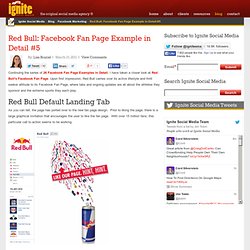 Upon first impression, Red Bull carries over its active lifestyle and thrill seeker attitude to its Facebook Fan Page, where tabs and ongoing updates are all about the athletes they sponsor and the extreme sports they each play. Red Bull Default Landing Tab As you can tell, the page has ported over to the new fan page design. Prior to liking the page, there is a large graphical invitation that encourages the user to like the fan page.
Red Bull's smart use of social media and branded content - TNW Social Media. Red Bull is playing a smart game.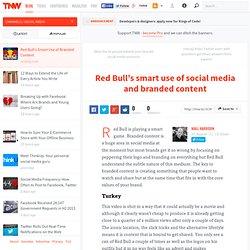 Branded content is a huge area in social media at the moment but most brands get it so wrong by focusing on peppering their logo and branding on everything but Red Bull understand the subtle nature of this medium. The key to branded content is creating something that people want to watch and share but at the same time that fits in with the core values of your brand. Turkey This video is shot in a way that it could actually be a movie and although it clearly wasn't cheap to produce it is already getting close to a quarter of a million views after only a couple of days.
Killer Facebook Fan Pages: 5 Inspiring Case Studies. Callan Green works in public relations and social media at Bailey Gardiner in San Diego.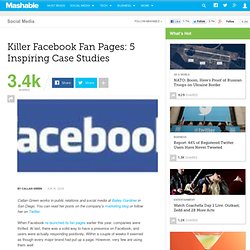 You can read her posts on the company's marketing blog or follow her on Twitter. When Facebook re-launched its fan pages earlier this year, companies were thrilled. At last, there was a solid way to have a presence on Facebook, and users were actually responding positively. Gilt Brings Exclusive Sales to Facebook. The Top 10 Marketing Sites For Social Media Marketing Trends. Recently, the Pivot Conference team set out to learn more about the state of social advertising and the future ahead by conducting an industry survey of 230 brand managers, executives, and marketing professionals.
We will release the full report during the week of July 25th. Not all of the insights we learned will make it into the final report. AT&T_CaseStudy_V3.pdf (Objet application/pdf) 5 Smart Social PR Campaigns to Learn From. The Social PR Series is supported by "Social Media. So What," the free online conference from Vocus that'll re-shape and re-shine your social media skills.
Let Scott Stratten and friends wipe that frown off your Facebook and make you a sweeter Tweeter. Register now! As the web evolves from a network of sites to a network of people, public relations campaigns must also evolve, and most successful PR campaigns now include a social component.
Telecom
HOW TO: Respond when Social Media Attacks Your Brand. This post originally appeared on the American Express OPEN Forum, where Mashable regularly contributes articles about leveraging social media and technology in small business. For all the praise that brand advertisers have for social media, they must be aware that it's very much a double-edged sword. And for all the free marketing, advertising and brand promotion via Facebook, Twitter, Foursquare, and other platforms used to help build an identity and relationship with your customers, it can just as quickly turn on you and your brand.
Social media disasters occur for a number of reasons, the first being that your company probably messed up. It may not have been intentional, but something, somewhere down the line, went wrong enough for someone to complain and it was enough for others to vocalize that complaint en masse. One mistake is all it takes for social media to turn against your brand. Journée Infopresse - Web participatif - Infopresse. Le délivré. Comme chaque mois, notre équipe de libraires spécialisés en littérature jeunesse passe en revue l'ensemble de l'effarante production du mois écoulé pour en repérer les nouveautés incontournables.
Voici un aperçu de ces nouveaux titres et nouvelles séries, question d'aiguiser votre appétit livresque… Le secret très secret, Cécile Alix, ill. de Leïla Brient, Limonade, 32p., 9782940520114* On sait rarement comment s'y prendre pour parler de la mort aux plus petits… Ce très bel album fait preuve d'une belle sensibilité, d'un brin de poésie, d'intelligence, de spiritualité. Case Study - EPC Cigar, a Start-Up, Using Twitter to Build Buzz. Ford Shows Off New Explorer to Facebook Fans with Full Day Of Content. Ford used the Facebook Page of its iconic Explorer to reveal the 2011 model to the public. The campaign has been building for awhile — the company has been posting teaser photos and videos to the Page after it first announced the launch in early June.
Scott Monty, Ford's Multimedia Communications Manager, tells us that launching the totally redesigned Explorer through Facebook was the most effective way to get the word out about the new model, and the numbers from the first day of the launch back that up. The Ford Explorer Page began the day with about 42,500 fans, and Monty was hoping to end the day with 50,000.
---