Consumer
The Digital Marketing Series is supported by HubSpot, an inbound marketing software company based in Cambridge, Mass., that makes a full platform of marketing software, including social media management tools. Shoes are big business online. Just look at online retailer Zappos, which generates more than $1 billion in annual gross sales, of which between 80% and 85% are shoes.
3 Shoe Brands Kicking Butt With Social Media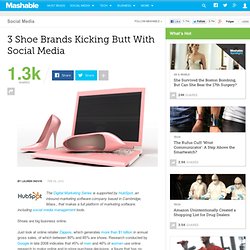 The 54th Grammy Awards ceremony is only eight days away and the Recording Academy is kicking off the next phase of its digital and social campaign. Under the heading of "We Are Music" the Academy and its partners are harnessing the power of social, mobile and digital to make the award show more modern than ever. The Recording Academy made the decision to invest in social and digital media several years ago (you can read Mashable's past coverage of the 2010 and 2011 campaigns) and the organization and its awards show are now seeing the dividends. Big time.
The 2012 Grammys Embrace Digital, Mobile and Social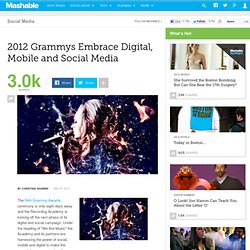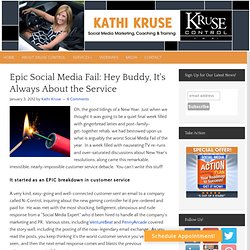 Oh, the good tidings of a New Year. Just when we thought it was going to be a quiet final week filled with gingerbread lattes and post-family-get-together rehab, we had bestowed upon us what is arguably the worst Social Media Fail of the year. In a week filled with nauseating TV re-runs and over-saturated discussions about New Year's resolutions, along came this remarkable, irresistible, nearly-impossible customer service debacle. You can't write this stuff! It started as an EPIC breakdown in customer service A very kind, easy-going and well-connected customer sent an email to a company called N-Control, inquiring about the new gaming controller he'd pre-ordered and paid for.
Epic Social Media Fail: Hey Buddy, It's Always About the Service
Vibrant Awards 2012 coming soon! Have a look at last year's Vibrant Awards. Submissions for the Vibrant Awards 2012 are now closed. 2012 Winners: Thank you to everyone who submitted for the 2012 Vibrant Awards – we received over 30 submissions from leading brands in the UK. The below winners were selected by a panel of industry experts from the UK.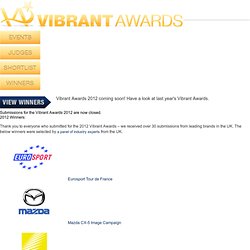 Winners - Vibrant Awards 2011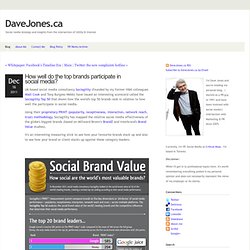 UK-based social media consultancy Sociagility (founded by my former H&K colleagues Niall Cook and Tony Burgess-Webb) have issued an interesting scorecard called the Sociagility Top 50 that shows how the world's top 50 brands rank in relation to how well the participate in social media. Using their proprietary PRINT (popularity, receptiveness, interaction, network reach, trust) methodology, Sociagility has mapped the relative social media effectiveness of the globe's biggest brands (based on Millward Brown's BrandZ and Interbrand's Brand Value studies). It's an interesting measuring stick to see how your favourite brands stack up and also to see how your brand or client stacks up against these category leaders.
the intersection of social media utility & interest - DaveJones.ca - How well do the top brands participate in social media?
How to ruin your reputation in one email thread: The Ocean Marketing story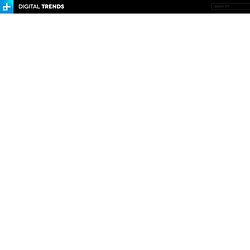 For decades, we have all heard the expression that there is no such thing as bad press. This is wrong. Perhaps that may have been true 20 years ago, but things are different now. The internet can be a cruel mistress, and thanks to the whims of a socially connected world, even a little faux pas can turn a minor issue into a major one.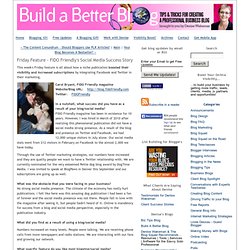 Friday Feature - FIDO Friendly's Social Media Success Story
This week's Friday feature is all about how a niche publication boosted their visibility and increased subscriptions by integrating Facebook and Twitter in their marketing. Carol Bryant, FIDO Friendly magazineWebsite/Blog URL: http://blog.fidofriendly.comTwitter: FIDOFriendly In a nutshell, what success did you have as a result of your blog/social media? FIDO Friendly magazine has been in existence for 10 years. However, I was hired in March of 2010 after realizing this phenomenal publication did not have a social media strong presence.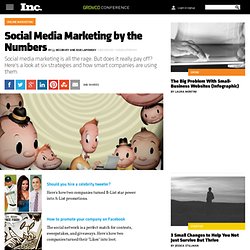 Social Media Marketing by the Numbers
Social media marketing is all the rage. But does it really pay off? Here's a look at six strategies and how smart companies are using them. IMAGE: Bill Mayer
Facebook marketers are constantly faced with the daunting task of growing a page's fan count with no budget. Before you get discouraged that you can't foot the bill for an Oprah-like car giveaway to work up your fans in a frenzy, take a deep breath. Facebook allows your brand plenty of opportunities to do more with less, you just need a little inspiration. Open up your brand's treasure chest and treat your fans with downloadable goods using North Social's Exclusive app. This powerful app allows you to upload any digital file (audio, video, document, or image), which is unlocked when the fan posts an update into their personal stream.
26 Ideas For Facebook Fan Exclusives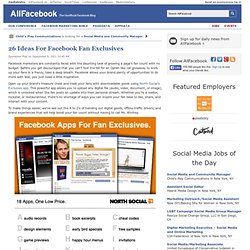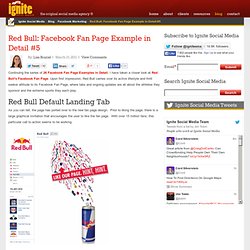 Continuing the series of 26 Facebook Fan Page Examples in Detail, I have taken a closer look at Red Bull's Facebook Fan Page.
Red Bull: Facebook Fan Page Example in Detail #5
Red Bull is playing a smart game.
Red Bull's smart use of social media and branded content - TNW Social Media
Killer Facebook Fan Pages: 5 Inspiring Case Studies
Callan Green works in public relations and social media at Bailey Gardiner in San Diego.
Gilt Brings Exclusive Sales to Facebook
The Top 10 Marketing Sites For Social Media Marketing Trends
Recently, the Pivot Conference team set out to learn more about the state of social advertising and the future ahead by conducting an industry survey of 230 brand managers, executives, and marketing professionals. We will release the full report during the week of July 25th. Not all of the insights we learned will make it into the final report.
AT&T_CaseStudy_V3.pdf (Objet application/pdf)
5 Smart Social PR Campaigns to Learn From
The Social PR Series is supported by "Social Media.
This post originally appeared on the American Express OPEN Forum, where Mashable regularly contributes articles about leveraging social media and technology in small business. For all the praise that brand advertisers have for social media, they must be aware that it's very much a double-edged sword.
HOW TO: Respond when Social Media Attacks Your Brand
Journée Infopresse - Web participatif - Infopresse
Le délivré
Case Study - EPC Cigar, a Start-Up, Using Twitter to Build Buzz
Ford Shows Off New Explorer to Facebook Fans with Full Day Of Content