Analytique
Michelle Sullivan Communications - classement & communauté. 5 Essential Spreadsheets for Social Media Analytics. Ann Smarty is a search marketer and full-time web entrepreneur.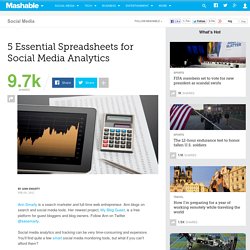 Ann blogs on search and social media tools. Her newest project, My Blog Guest, is a free platform for guest bloggers and blog owners. Follow Ann on Twitter @seosmarty. 20 free tools to evaluate social media. These tools are not for measurement, but instead evaluation.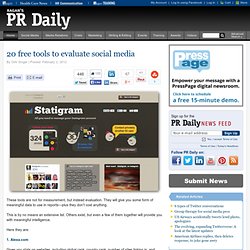 They will give you some form of meaningful data to use in reports—plus they don't cost anything. This is by no means an extensive list. Others exist, but even a few of them together will provide you with meaningful intelligence. Here they are: 2 ways to measure social media successfully. Social media measurement was one of many hot topics in 2011.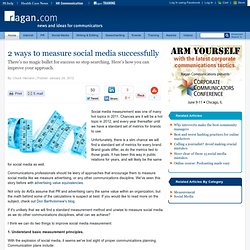 Chances are it will be a hot topic in 2012, and every year thereafter until we have a standard set of metrics for brands to use. Unfortunately, there is a slim chance we will find a standard set of metrics for every brand. Brand goals differ, as do the metrics tied to those goals. It has been this way in public relations for years, and will likely be the same for social media as well.
Communications professionals should be leery of approaches that encourage them to measure social media like we measure advertising, or any other communications discipline. 40+ Social Media Dashboard Tools for Tracking Stuff. As part of my on-going work developing social media for business units, I'm often asked about what types of tools I used for tracking all that 'social media stuff.'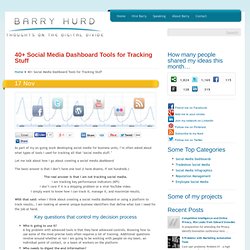 Let me talk about how I go about creating a social media dashboard The basic answer is that I don't have one tool (I have dozens, if not hundreds.) The real answer is that I am not tracking social media. I am tracking key performance indicators (KPI) I don't care if it is a shipping problem or a viral YouTube video. I simply want to know how I can track it, manage it, and maximize results. Ten tools to use for social media measurement. The following list is adapted from Erik Deckers and Kyle Lacy's Branding Yourself: How to Use Social Media to Invent or Reinvent Yourself.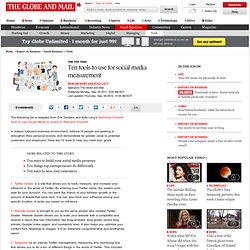 In today's turbulent business environment, millions of people are seeking to strengthen their personal brands, and demonstrate far greater value to potential customers and employers. Here are 10 tools to help you meet your goals: 1. Mixpanel | Real-time Web Analytics, Funnel Analysis. Topsy - Real-time search for the social web. Feedjit: Know when your friends and clients visit you. 10 Free Tools that Can Help Your Site Rank Above the Rest. SmartViper - domain worth analyzer, historical statistics. Knowledge Is Power.
Comment évaluer le succès de son blogue et de sa communauté ? PostRank™ Analytics. Facebook Analytics Now Available from PostRank. PostRank, a social media analytics service we use every day here at ReadWriteWeb, will announce today a new Facebook application that automates the publishing of your content onto Facebook and captures reader engagement statistics to incorporate into analytics for your content across the rest of the social media world.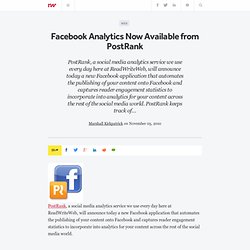 PostRank keeps track of how content gets passed around on sites like Twitter, Delicious, Digg, Reddit and many more. The service's ability to track reader sharing and discussion on Facebook has been hampered, however, by Facebook's being closed off to outside data collection. Best Web Analytics Tools: Quantitative, Qualitative, Life Saving! | Occam's Razor by Avinash Kaushik. ShareThis Starts Measuring Social Reach, Facebook And Twitter Account For Nearly Half. When it comes to measuring how content is shared across the Web, the approaches we use today are still pretty primitive.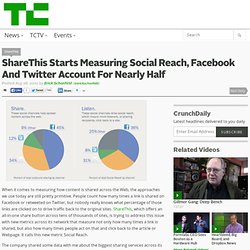 People count how many times a link is shared on Facebook or retweeted on Twitter, but nobody really knows what percentage of those links are clicked on to drive traffic back to the original sites. ShareThis, which offers an all-in-one share button across tens of thousands of sites, is trying to address this issue with new metrics across its network that measure not only how many times a link is shared, but also how many times people act on that and click back to the article or Webpage.
It calls this new metric Social Reach. The company shared some data with me about the biggest sharing services across its network, which reaches 400 million people a month. Facebook is No. 1, accounting for 45 percent of all shared content. BlogPulse. What PR Professionals Need To Know About Web Analytics. If your reaction to the headline was, "what on earth does Web analytics have to do with my job?"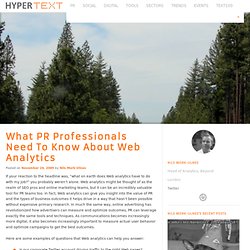 You probably weren't alone. Web analytics might be thought of as the realm of SEO pros and online marketing teams, but it can be an incredibly valuable tool for PR teams too. How to measure visitor engagement, redux. Back in December of last year when I first posted on measuring visitor engagement, I hardly imagined how much interest the topic would generate.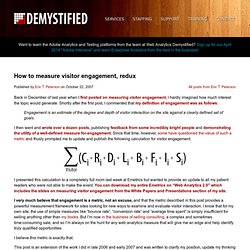 Shortly after the first post, I commented that my definition of engagement was as follows: Engagement is an estimate of the degree and depth of visitor interaction on the site against a clearly defined set of goals. I then went and wrote over a dozen posts, publishing feedback from some incredibly bright people and demonstrating the utility of a well-defined measure for engagement. Since that time, however, some have questioned the value of such a metric and thusly prompted me to update and publish the following calculation for visitor engagement:
---