Affaires publiques
Reverse Robocall: Talk Back. Be Heard - Reverse Robocall
Charlotte hits Twitter to lure Chiquita - Business Courier
Every month more evidence piles up, suggesting that online comment threads and forums are being hijacked by people who aren't what they seem. The anonymity of the web gives companies and governments golden opportunities to run astroturf operations: fake grassroots campaigns that create the impression that large numbers of people are demanding or opposing particular policies. This deception is most likely to occur where the interests of companies or governments come into conflict with the interests of the public. For example, there's a long history of tobacco companies creating astroturf groups to fight attempts to regulate them. After I wrote about online astroturfing in December, I was contacted by a whistleblower.
The need to protect the internet from 'astroturfing' grows ever more urgent | George Monbiot | Environment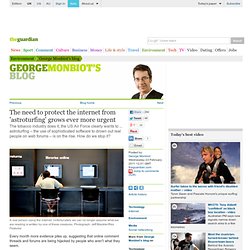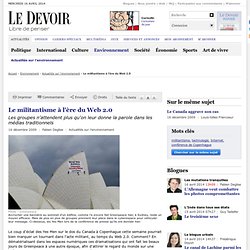 Le coup d'éclat des Yes Men sur le dos du Canada à Copenhague cette semaine pourrait bien marquer un tournant dans l'acte militant, au temps du Web 2.0. Comment? En dématérialisant dans les espaces numériques ces dramatisations qui ont fait les beaux jours de Greenpeace à une autre époque, afin d'attirer le regard du monde sur une préoccupation environnementale.
Le militantisme à l'ère du Web 2.0
Les médias sociaux - 4. Utilisations politiques et conséquences pour la démocratie représentative-2010-10F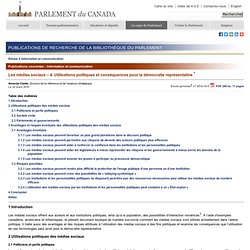 1 Introduction Les médias sociaux offrent aux acteurs et aux institutions politiques, ainsi qu'à la population, des possibilités d'interaction novatrices.