Programming
kisom/itun - GitHub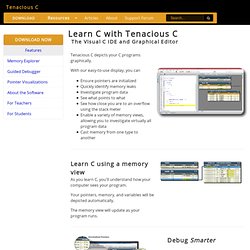 C, The Beautiful Language They call soccer the beautiful game, and when we watch Ronaldo doing things on the pitch that no earthly being should be allowed to, we understand why. And yet, to me, it's not so much the ungodly talent of the superstars that makes the sport such a pleasure to watch, but more the beating heart of the match itself. The slow, ordinary rhythms that come between the highlight plays. The tidal, life-like forces that propel a team toward its goal and the equally strong counter-forces that prevail from the opposite direction. Watching a good match, I get the sense that the gameplay exists unto itself — that the players are merely agents to it.
TENACIOUS C | The Useful IDE
Dyko - A Lightweight Web Framework
How To Make a Password Cracking Cluster - Antionline Forums
kisom's Profile - GitHub
Learning Python
January's Tech Theme of the Month is going to be Python. I realize it's still December; I decided to get a head start. Last month's tech theme was videoconferencing. I learned a lot, including the unfortunate continued split between low end and high end and general lack of ability to have a single universal solution. Oh – and bandwidth still matters a lot.