July 2009 News
Earlier this year at the TED conference, Pattie Maes from the MIT Media Lab's Fluid Interfaces Group showcased a wearable computing system that allows users to display and interact with the Web on any surface - including the human body. The video shows the system's main developer, Pranav Mistry, taking photographs with his hand, summoning up Amazon review data onto the cover of a physical book, displaying information about a person he's just met on their tee-shirt, and calling someone by inputting a phone number onto the palm of his hand. Look out mobile phones, because in a decade's time wearable systems may be the primary means of accessing the Web! In the TED presentation, Maes refers to this system as a "sixth sense" - a sense that would give us seamless, easy access to information on the fly about situations and objects we come across.
The Wearable Internet Will Blow Mobile Phones Away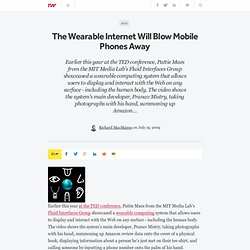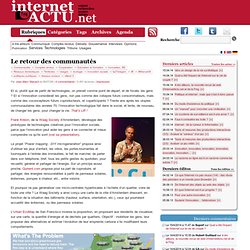 Et si, plutôt que de partir de technologies, on prenait comme point de départ, et de focale, les gens ? Et si l'innovation considérait les gens, non pas comme des cobayes futurs consommateurs, mais comme des coconcepteurs futurs coproducteurs, et coparticipants ? Trente ans après les utopies communautaires des années 70, l'innovation technologique fait dans le social, et tente, de nouveau, de changer les gens, pour changer la vie.
Le retour des communautés | InternetActu.net
Urban EcoMap
Voyages : People, politiques : où passent-ils leurs
VOYAGE DANS L'AMERIQUE D'OBAMA (13) - Toujours au Kansas, nous découvrons les ravages de la désindustrialisation. Ancienne cité minière, Treece est envahie par la misère. Habitée par des Blancs réduits à l'extrême pauvreté, la ville donne le triste spectacle de l'Amérique en déclin. » Tous les articles de François Hauter dans l'Amérique d'Obama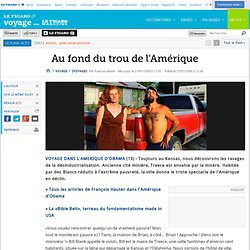 Voyages : Au fond du trou de l'Amérique