Stormy-Mappers
Hiya!
This pearltree is on the thingies beyond brain storming and after mindmaping :D

Free of charge + Jolly + Communicative...

Create, edit, and share your sitemaps online...

Stay blessed,
MSHADDD Feb 14
Five Rules for Effective Brainstorming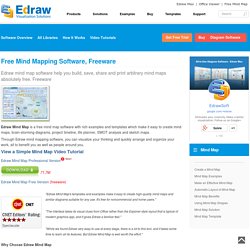 Helps you build, save, share and print arbitrary mind maps absolutely free. Edraw Mind Map is a free mind map software with rich examples and templates which make it easy to create mind maps, brain-storming diagrams, project timeline, life planner, SWOT analysis and sketch maps. Through Edraw mind mapping software, you can visualize your thinking and quickly arrange and organize your work, all to benefit you as well as people around you. View a Simple Mind Map Video Tutorial
Edraw MindMap :)
(Mapul)
A mind map is a diagram used to represent words, ideas, tasks, or other items linked to and arranged around a central key word or idea. Especially in British English, the terms spidergram and spidergraph are more common,[1] but they can cause confusion with the term spider diagram used in mathematics and logic. Mind maps are used to generate, visualize, structure, and classify ideas, and as an aid to studying and organizing information, solving problems, making decisions, and writing.
Visual Thinking Evolution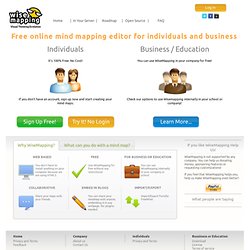 CmapTools
Build a website in just a matter of minutes without coding and spending too much! You will find 1WD's guide on how to build a WordPress website, including recommended tools and services that you should use for your website, both FREE and premium. This resource page also includes a getting started guide on how to become a web designer :) Do you want to become a web designer? Whether you have zero to little knowledge about web design, we can help you become a web designer. And it will only take you one week at most!
Thinking Maps®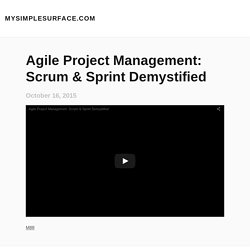 mySimpleSurface
Why? Task lists & sticky notes are not enough. And traditional project management tools are too much. UPDATE: We're moving out of beta! The features you asked for and more are now available atsimplesurface.com My simple surface is an agile management utility.
Building an Inclusive Diversity Culture: Principles, Processes and Practice In management theory and business practice, the dealing with diversity, especially a diverse workforce, has played a prominent role in recent years. In a globalizing economy companies recognized potential benefits of a multicultural workforce and tried to create more inclusive work environments. However, ''many organizations have been disappointed with the results they have achieved in their efforts to meet the diversity chal- lenge'' [Cox: 2001, Creating the Multicultural Organization (Jossey-Bass, San Francisco)]. ... The reason for this in the fact that while much attention has been paid to the strategic dimension of diversity policies, systems, and processes, much less thought has been given to the nor- mative dimension, the norms and values involved.
Arcilook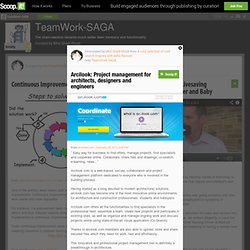 This idea generator is a funky little doodad that will train your brain to be more creative through the use of random words. Generate random words and images then use them in a variety of activities to help your creativity flow. Move the items around, resize them, refresh them and let it guide your mind as it wonders. Double Click on a random word or image to change it. Scroll on a random word or image to resize it.
Creative Idea Generator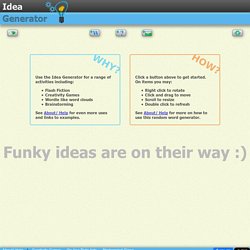 Language: map views maps served members Sign In or Register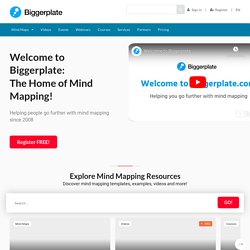 Biggerplate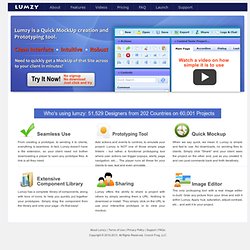 Who's using lumzy: 51,529 Designers from 202 Countries on 60,001 Projects ...and counting From creating a prototype, to sending it to clients, everything is seamless. In fact, Lumzy doesn't have a file extension, so your client need not bother downloading a player to open any prototype files. A link is all they need.
Lumzy
Solvr
Wridea
"We did a strategic workshop with various stakeholders to achieve a shared understanding of the business objective and challenges. With 12 people distributed in 3 locations (New York, San Francisco and London) there was no way we could've done the workshop effectively without Stormboard.In addition to the great intuitive tool that requires almost no learning, Stormboard provides a superb customer service that went above and beyond to support our workshop." ~ Danny, Senior User Experience Designer TheEconomist.com "Our company was looking for a tool that was able to collaborate and organize our team's ideas and concepts digitally. When we found Stormboard we knew it was the perfect tool for our marketing firm. It has made brainstorming efficient and green.
Edistorm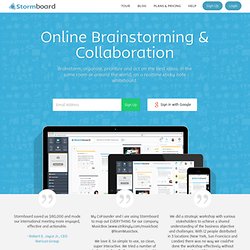 Mindjet
Threddie
Comapping
More examples The whiteboard reinvented Visualize, explore, collaborate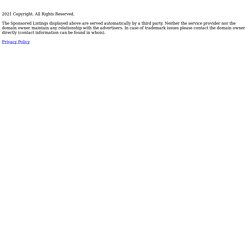 Dabbleboard
Scribblar
Board800
Cacoo
Hello, We launched Writeboard back in October of 2005 as a stand-alone service. A few years later we integrated Writeboards into Basecamp Classic and Backpack. Today, the vast majority of Writeboards are created inside those two products.
Whitebord
Model Xtractor
WriteMaps
The 'Laws of Mind Mapping' were originally devised by Tony Buzan when he codified the use of imagery, colour and association and coined the phrase 'Mind Mapping'. In the intervening 30 plus years, there have been many variations on the original 'Mind Map ' and the widespread usage of mapping software of various sorts, has dramatically changed what is possible. >> Click here to go to a video that provides a rapid (99 second) overview of how to Mind Map. (Note that you will be asked for your e-mail address so that you can view the video free of charge). The summary below is based on Buzan's structure (a 'Mind Mapping, how to' - details available in his many books) but we believe that whilst this structure is great for establishing well structured maps that can be used in many different ways, variations on these rules or 'laws' are often sensible and appropriate - as long as they are based on an understanding of why the laws exist and what they are trying to help the mind mapper to achieve.
How to
ThinkBuzan
Mindmapping
Mind Map Inspiration
100 examples of how you can use mindmapping whether completely new to mind maps or a seasoned pro. I hope the list helps generate ideas for you. 100 Reasons to Mind Map 1. Explore a subject 2.
Mappio
SimpleDiagrams
SimpleDiagrams2 is a small desktop application that helps you express your ideas quickly and simply. There's just enough functionality to describe a thought or capture a process. SimpleDiagrams2 keeps the visual expression of ideas clear through the simple design of library items and backgrounds. Because the last thing you want to do is overload your audience with over-cooked visuals.
Gliffy
Diagramly
Creately
MindMeister
Glinkr
Flow chart
Mindomo
LucidChart
bubbl.us
Mind42
Visual Thinking Evol
Exploratree
SpiderScribe
XMind
MindNode
Mapul
FreeMind
index
Semantik KDE
Labyrinth
Personal Brain
Origramy
Study
Txt 2 Mind Map
Mapyourinfo