Harvest RainWater
Come in folks!
Should you have an addition, enhancmenet and/or constructive criticism then please go on and support our hard efforts :)

Cheers,
MSHADDD
How is Rainwater Harvesting done ? Harvesting System Broadly rainwater can be harvested for two purposes Storing rainwater for ready use in containers above or below ground Charged into the soil for withdrawal later (groundwater recharging) From where to harvest rain Rainwater harvesting can be harvested from the following surfaces Rooftops: If buildings with impervious roofs are already in place, the catchment area is effectively available free of charge and they provide a supply at the point of consumption.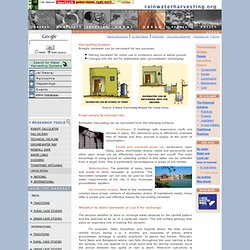 Paved and unpaved areas i.e., landscapes, open fields, parks, stormwater drains, roads and pavements and other open areas can be effectively used to harvest the runoff. The main advantage in using ground as collecting surface is that water can be collected from a larger area. This is particularly advantageous in areas of low rainfall. Ersson rainwater harvest and purification (original) Background In January 1996 we installed a rainwater catchment system to capture Oregon's abundant rainfall.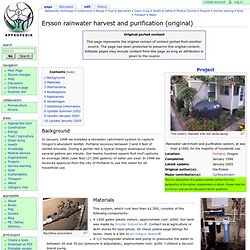 Portland receives between 3 and 4 feet of rainfall annually. Harvest Rain DVD. Harvest Rain - The Movie review by Doug Pushard In harvesting rainwater, the overwhelming majority of the attention is focused on active rainwater collection systems - that is systems with tanks and pumps.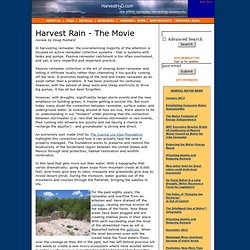 Passive rainwater catchment is too often overlooked, and yet, a very impactful and important practice. Passive rainwater collection is the art of slowing down rainwater and letting it infiltrate locally rather than channeling it too quickly running off the land. It promotes healing of the land and treats rainwater as an asset rather than a problem. Collect Rain Water For Your Garden 3in1 System. Interview_Sally. Harvesting Rain Downunder by Doug Pushard Rainwater harvesting is not just a topic of interest in the arid southwest, or even just parts of the United States; it is a topic of worldwide interest.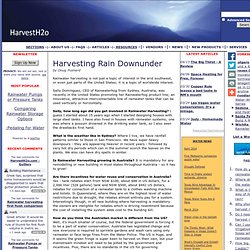 Sally Dominguez, CEO of Rainwaterhog from Sydney, Australia, was recently in the United States promoting her Rainwaterhog product line; an innovative, attractive interconnectable line of rainwater tanks that can be used vertically or horizontally. Sally, how long ago did you get involved in Rainwater Harvesting? I guess I started about 15 years ago when I started designing houses with large steel tanks. I have also lived in houses with rainwater systems; one was where a possum drowned in the drinking water tank, so I also seen the drawbacks first hand. MNT's Rainwater Collection System with Manifold. The best rain barrel I have ever seen-and affordable. How to Build a Rainwater Harvesting & Greywater collecting system DIY.
How to Harvest Rain Water in a Household Setting. Rainwater Harvesting. Rainwater harvesting with multiple (modular) barrels I'm dependent on water and I'm hooked on barrels.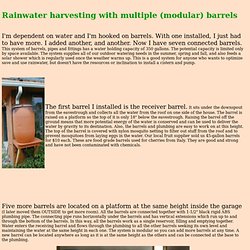 With one installed, I just had to have more. I added another, and another. Rain harvester using 55 gallon barrels. Rain Barrel To Toilet Installation - Page 1. A few years ago, I bought a 90 gallon rain barrel and hooked it up to my rain gutter on the far side of my house.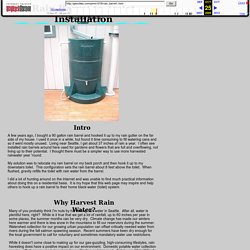 I used it once in a while, but found it time consuming to fill watering cans and so it went mostly unused. Living near Seattle, I get about 37 inches of rain a year. I often see installed rain barrels around here used for gardens and flowers that are full and overflowing, not living up to their potential. My rain barrel design.
Functionality update: 21 June 2007 We spent a week visiting the grandkids.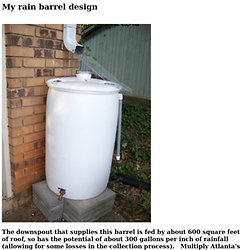 While we were away, the National Weather Service reported over an inch of rain in the area. The first barrel is full and there are no leaks. Now to add more barrels... Functionality update: 28 July 2007 I added the second barrel to this downspout using a 3/4" male pipe thread to hose adapter near the bottom of each barrel. How to Build a Rainwater Collection System. Steps Method 1 of 4: Getting Rain Barrel Supplies 1Obtain one or more water storage barrels.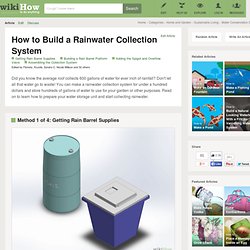 You can buy a water storage barrel online, but it's cheaper to get a used one from a company that uses large barrels to store food and other merchandise (just be sure to clean it thoroughly with soapy water). A rain barrel can also be made from a large plastic trash can. Get a barrel that will hold 30 to 55 gallons of water. HCM-04950. Rainwater Harvesting and Purification System. Aussie Rain Tanks. Harvest the Rain. Learn how to build a rainwater harvesting system to save free water.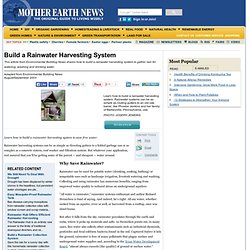 Rainwater harvesting systems can be as simple as directing gutters to a lidded garbage can or as complex as a concrete cistern, roof washer and filtration system. But whatever your application, rest assured that you'll be getting some of the purest — and cheapest — water around. Why Save Rainwater? Rainwater can be used for potable water (drinking, cooking, bathing) or nonpotable uses such as landscape irrigation, livestock watering and washing. Collecting and using rainwater has numerous benefits, ranging from improved water quality to reduced stress on underground aquifers. Simple_Diagram_to_show_Rainwater_Harvesting.png (PNG Image, 1209x851 pixels) - Scaled (95.
Raincycle - How to harvest rain. Sustainable System Every Raincycle system has a storage component and a water handling component.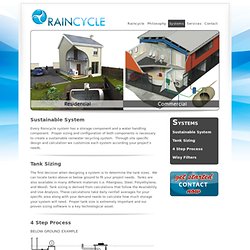 Proper sizing and configuration of both components is necessary to create a sustainable rainwater recycling system. Through site specific design and calculation we customize each system according your project's needs. Tank Sizing The first decision when designing a system is to determine the tank sizes. How to Plan a Home Rain Water Collection System. Capture System. The Capture System by Doug Pushard You have decided to invest in a rainwater harvesting system, but where do you start? What questions do you need to answer before you can build the right system to harvest rainwater? Let's start with learning how much rain you can collect. Residential_gutters. Residential Gutter Sizing by Doug Pushard Gutter sizing is an aspect of rainwater collection that has been studied extensively and can be calculated based on published guidelines in the plumbing codes. For example, the Uniform Plumbing Code (UPC) recommends that a gutter system be able to carry the runoff of the heaviest 60 minute downpour recorded in the last 100 years.
The International Plumbing Code (IPC) has a similar, but not exact, published sizing recommendation. Raingutters. Making Raingutters Work! Why gutter protection should be standard on every home. Reprinted by permission from the January 2007 Home Perservation Newsletter Copyright 2007 HPS Palo Alto, Inc. All Rights Reserved At HPS we receive a lot of requests for information about gutters and how to best take care of them. New Page 1. Search The Renewable Energy site for Do-It-Yourselfers John's Post: Just wanted to share a simple idea.
I have three dry creeks and 2/3rds of my ponds water has evaporated thanks to the drought of 2007. How to Collect Rain Water. How to Recycle Rain Water. How to plan a good system of collecting rain water. Collect Rain Water. How to Make a Rain Barrel Out of a Wine Barrel. How to Collect Rain Water on Vacant Land. Manual1. The WooTank rain water harvesting tank. Search The Renewable Energy site for Do-It-Yourselfers The first wootank was made a few years back as an experiment in low cost custom tank construction. I wrote about it about three years ago on my blog. It has been operating reliably for the last three years, with no signs of deterioration (beyond the initial design flaws this new tank hoped to address). Build a 6500-gallon concrete water tank for $1500 by Dorothy Ainsworth Issue #101. RainwaterHarvestingManual_3rdedition. MSUExtnRainwaterCatchmentmt9707.
Water From The Sky (9780962676758): Michael Reynolds. SmartValve. The Online Rainwater Harvesting Community. Pedaling. Cidecalli. Hari_Top10. Pump_systems. First_flush. First Flush System Rainwater Harvesting - Water. Rain Chains :: The Online Rainwater Harvesting Community. Home -  – rainfoundation.org. UK Rainwater Harvesting Association (UKRHA) - Recycling Water. Regulations. Rainharvesting Systems-rainwater recycling, recovery, storage and reuse-water conservation. People's Daily Online - Rainwater harvesting benefits farmers in Gansu. Calculate water productivity of your roof. Simple System. Rainwater Harvesting: Comparing Storage Solutions :: HarvestH2o.com. Pumps or tanks. The Online Rainwater Harvesting Community. Conveyance1. Portable shelter and water catchment for livestock.
The Secret to Successful Rainwater Harvesting: Floating Filters :: HarvestH2o.com. Florida House: A Rainwater Harvesting Case Study - HarvestH2O.com :: The Online Rainwater Harvesting Community. The Online Rainwater Harvesting Community. Op Ed Greenest Roof. The Online Rainwater Harvesting Community. GeoPathfinder. Rainwater harvesting. Rainwater_harvesting. Home - Waterwall tanks. Rain Barrel.
---
mshaddd Oct 1 2011

7abayebna (Dearest folks)!
First of all, this project I have been energizing for a while to get ready for the so called Nibiru or the mega changes in our mother earth before the end of days.

Peartree is an innovative curative way to amalgamate ideas, approaches, resources and so on in a very illustrative node-like manner.
I have tried while working on the project of "rain harvest" along with other projects to make them as coherent and cohesive as possible.

You do not need necessarily a huge screen to properly delve into this tree's realms. SIMPLY, you can fine-tune the magnification/appearance via the control + - at the bottom of the page.
Stay blessed, MSHADDD

mshaddd Oct 1 2011

7abayebna (Dear folks)!
First of all, this project I have been energizing for a while to get ready for the so called Nibiru or the mega changes in our mother earth before the end of days.
Peartree is an innovative curative way to amalgamate ideas, approaches, resources and so on in a very illustrative node-like manner.
I have tried while working on the project of "rain harvest" to make it as coherent and cohesive as possible.
You do not need necessarily a huge screen to properly delve into this tree's realms. SIMPLY, you can fine-tune the magnification/appearance via the control + - at the bottom of the page.
Stay blessed, MSHADDD
---