Sewing blogs
A Sentimental Quilter
Christmas is over and it's less hectic around here so I thought I'd finish off the year with a bang and try to knock off a few of my Dear Jane blocks. I figured out yesterday that if I make one more block I will be 1/4 of a block away from being a quarter of the way through finishing (That will make Block #56. So, 225 blocks divided by 4 is 56.25. Make sense?)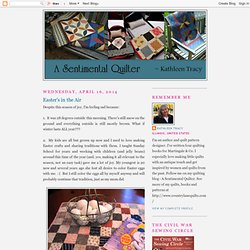 Free Patterns
Dog Under My Desk - Patterns, Tutorials and More! :: Dog Under My Desk
Get Carded in some brand new fabrics!! A few weeks ago Robert Kaufman contacted me to see if I wanted to make up some of my Get Carded wallets in their newest fabrics. What they sent me was fantastic! I am completely in love with this cotton lawn in their London Calling line. I wasn't sure how cotton lawn would work, because it's so thin and more » Put your hands together for… Gadget Guard!!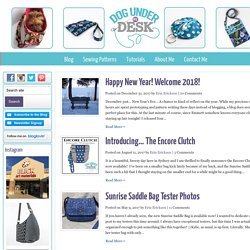 MooseStash Quilting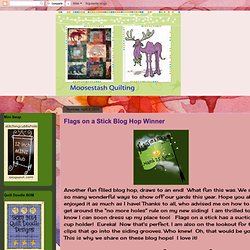 I love flags...when the wind blows, they have a life of their own. They represent things, they have stories to tell, they command attention. Heck, it sounds a lot like us quilters, now doesn't it! ;-) My guess is, Madame Samm must have thought the same thing. She and Thearica have once again brought us together to show just who we really are! Thank you ladies for all you do!
Barrister's Block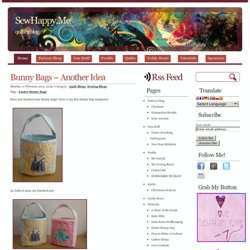 As I was in the mood to brighten up our Spanish naya I finally got around to making some cushions that I have been meaning to make for simply ages. I had bought these nautical fabric squares (curtain weight cotton, which makes a much more sturdy cushion) on Ebay for far too much money simply because I had just the project in mind for them. Many months later I came across the fabric online at Dunelm Mill and it would have cost me considerably less had I found this before. I would also have been able to fussy cut them so as not to lose any of the design, which I would have preferred. But hey ho, such is life.
Quilting Blog,Tutorials and Quilt Patterns
...but I do need a bit of help! Once again I'm going to have to work some ATWD magic and make it look as though I've been productive this month! I think I'll show you lots of photos to distract you from lack of substance sewing. I've got to admit to being really, really tired at the moment. To give you an idea of what really, really tired looks like I can tell you that in the last seven days I've spent six afternoons in bed, fast asleep for at least three hours each time.
Archie the wonder dog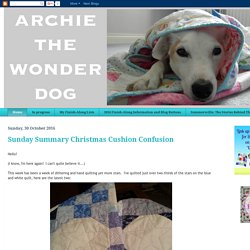 sewingdistrict.com |
!Sew WE Quilt!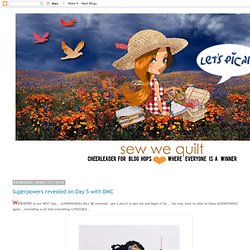 January 7th-21st Yes here we are Day 1 of our Wake up to KONA…. A lovely way to begin our year with loads of colour and coffee…Ok, that is just me…. Amanda Murphy knows a lot about colour and coffee drinking. She sipped - wrote and designed quilts for Color Essentials that is filled with patterns that she created using Sunrise and Sunset bundles from Robert Kaufman…ohhhh and let's not forget Aurifil which is the thread that matches perfectly too….Yes it will be a year of colour… If you have been searching for inspiration on what to do with KONA SOLIDs…then you will be thrilled at what all of our ladies have been busy stitching...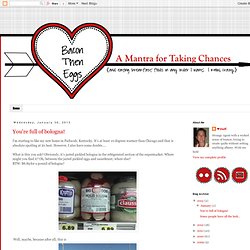 I'm starting to like my new home in Paducah, Kentucky. It's at least 10 degrees warmer than Chicago and that is absolute spoiling at its best. However, I also have some doubts…. What is this you ask? Obviously, it's jarred pickled bologna in the refrigerated section of the supermarket. Where might you find it?
BaconThenEggs
crocheted rug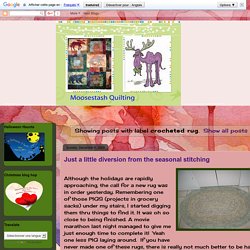 Although the holidays are rapidly approaching, the call for a new rug was in order yesterday. Remembering one of those PIGS (projects in grocery sacks) under my stairs, I started digging them thru things to find it. It was oh so close to being finished. A movie marathon last night managed to give me just enough time to complete it! Yeah one less PIG laying around.
Quilting Board
It's amazing to me how life works. A choice I made last year, affects things in a much bigger way than I could have imagined. All of a sudden I stand back and say "now I see, I was supposed to be here". I decided in September that I would stay closer to home in 2014.
Bunny Tales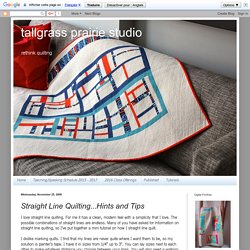 I love straight line quilting. For me it has a clean, modern feel with a simplicity that I love. The possible combinations of straight lines are endless.
Straight Line Quilting...Hints and Tips
GENERATIONS Quilt Patterns, Your 24/7 Online Quilt Teacher
Does it happen to you? The samples in the quilt store are amazingly gorgeous. The quilt patterns literally leap off the rack into your hands. In a blink of an eye, you're paying for a pattern, tucking it under your arm and triumphantly departing the store...all the while caressing and admiring the quilts...the fabric...the quilting... You're not alone. We all do it.
the great outdoors. Vintage travel trailers are in high demand, have a really fun and livable RV. My sister's new baby is a 1965 Fleetcraft. My Brother is working on the Construction / renovation of this little gem.
The Grateful Stitcher
Click here to download Churn Dash & Stars instructions (PDF file) Click here to download Paper Piece pattern for Star points - PLEASE check after printing that the sections measure 3.5 inches with seam allowances! If you have problems opening the above link, right click on it and save it to your computer and then open it.
Churn Dash & Stars
Quilts- Desire & Design
That girl... That quilt
Double Friendship Star
Amy's Passions
Ludlow Quilt and Sew
— Jo's Country Junction
Four Patch Snowball
!Sew WE Quilt!
Quilt Monster in my Closet
Quilt Top Roundup 2012 « patchwork crafts, quilt patterns for beginners, tutorials, free patterns
Sewhooked
Waste Not Wednesdays
the confused quilter