Planning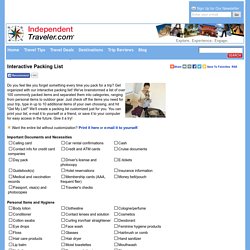 Interactive Packing List
Packing Tips What Not to Pack Get Our Best Travel Deals and Tips! Share Your Packing Tips on Our Boards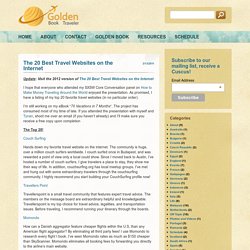 Update: Visit the 2012 version of The 20 Best Travel Websites on the Internet I hope that everyone who attended my SXSW Core Conversation panel on How to Make Money Traveling Around the World enjoyed the presentation. As promised, I have a listing of my top 20 favorite travel websites (in no particular order). I'm still working on my eBook "70 Vacations in 7 Months". The project has consumed most of my time of late.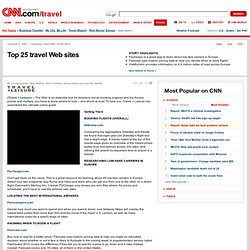 By Xander Kaplan, Nina Willdorf, Tanvi Chheda, Jessica Shaw and Jennifer Welbel (Travel + Leisure) -- The Web is an essential tool for travelers, but as booking engines and trip forums evolve and multiply, you have to know where to look -- and whom to trust. To help you, Travel + Leisure has assembled the ultimate online guide. Getting There Sidestep.com
Top 25 travel Web sites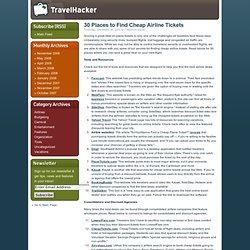 30 Places to Find Cheap Airline Tickets Thursday, December 20, 2007 at 7:06pm by admin Scoring a great deal on plane tickets is only one of the challenges air travelers face these days. Unbearably long security lines, bumped flights, lost luggage and congested air traffic are commonplace.