Job Search
Employment « MO.gov | Official Website of the State of Missouri
"...easy to use without any technical expertise; if I did it, anyone can..." More Coverage... Watch this two-minute video to learn about VisualCV and how it can help you today. Watch full size video here... Tune into the latest VisualCV webinars to learn how to get more out of VisualCV.com. Every other month we host a webinar to help you use VisualCV.com to advance your career.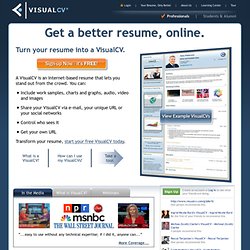 With a national unemployment rate nearing 10%, people all over the country are looking for work. Employers are hounded with resumes in the mail each day, all from hungry applicants eager for income. These candidates are all highly skilled professionals with bachelor degrees, MBAs, and even PhDs. A few applicant resumes will get a second glance, and possibly a call-back, but the majority will find a home in the trash. Such a talented, large field of applicants all submitting resumes that look exactly the same, in the same format – it's easy to get lost in the shuffle!
Benefits of Having an Online Resume Portfolio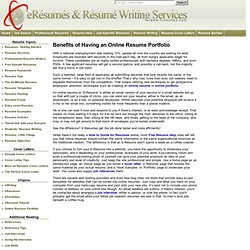 Online Resume Builder, Resume Template, How to Write a Resume - Resume Builder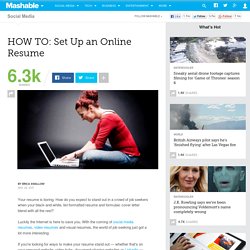 Your resume is boring. How do you expect to stand out in a crowd of job seekers when your black-and-white, list-formatted resume and formulaic cover letter blend with all the rest? Luckily the Internet is here to save you. With the coming of social media resumes , video resumes and visual resumes, the world of job seeking just got a lot more interesting.
HOW TO: Set Up an Online Resume
Free resume online - Post your resume on internet
It is extremely important for all applicants to make a good first impression during an interview.The initial interview is usually very short, but it can give you the right amount of time to impress your interviewer. It is normal for you to struggle especially if you do not know where to start. You should not stress yourself out during this period if you want to get your dream job.