Alternative Energy
Cheap, Clean Water. Photo: WaterconePassive Solar One Step Water Condensation FTW!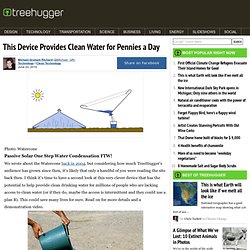 We wrote about the Watercone back in 2004, but considering how much TreeHugger's audience has grown since then, it's likely that only a handful of you were reading the site back then. I think it's time to have a second look at this very clever device that has the potential to help provide clean drinking water for millions of people who are lacking access to clean water (or if they do, maybe the access is intermittent and they could use a plan B). Solar Forest. Surface Area and Wind Power. Click for bigger version.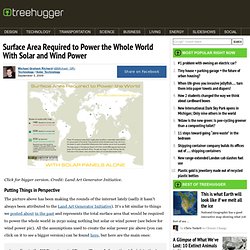 Credit: Land Art Generator Initiative. Putting Things in Perspective The picture above has been making the rounds of the internet lately (sadly it hasn't always been attributed to the Land Art Generator Initiative). Magenn Power Inc. How to Make a Solar Power Generator. Using parts easily available from the internet (see helpful links) and your local stores, you can make a small solar power generator for $250 to $300.
Great for rolling blackouts, life outside the power grid, or the coming zombie apocalypse. Power your computer, modem, dvd, tv, cameras, lights, fans, or DC appliances anywhere you go. BioPower Systems.
---