Teacher Websites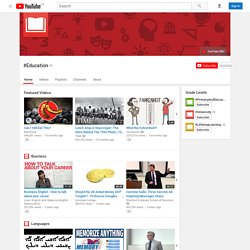 MIT Understanding Lasers and Fiberoptics full course by MIT Lasers are essential to an incredibly large number of applications. Today, they are used in bar code readers, compact discs, medicine, communications, sensors, materials processing, computer printers, data processing, 3D-imaging, spectroscopy, navigation, non-destructive testing, chemical processing, color copiers, laser "shows", and in the military. There is hardly a field untouched by the laser.
#Edchat is the weekly Bammy Award winning Twitter conversation that any educator can join to discuss and learn about current teaching trends, how to integrate technology, transform their teaching, and connect with inspiring educators worldwide. We also discuss education policy, education reform and often have leaders worldwide join our conversations, such as Alfie Kohn, Diane Ravitch, and the Finnish Education Leaders. #Edchat was founded July 30, 2009 by Shelly Sanchez Terrell (@ShellTerrell), Tom Whitby (@TomWhitby), and Steven Anderson (@Web20classroom).#Edchat is possible with the help of our volunteers & moderators- @Cybraryman1, @BlairTeach, @JSwiatek (our archivist), @KylePace, @EdtechSteve (creator of this wiki) Helpful links: Jerry Cybrarman's #Edchat page, What is #Edchat and #Edchat: Join the Conversation When is #Edchat? Every Tuesday we host 2 Edchat conversations at 12pm NYC/ 5pm UK and 7pm NYC/ 12am UK.
*** If you need the cliff notes version of this post, skip down to the Call to Action section! Last year I had a "hunch" about learning…specifically about curriculum. That hunch turned into a full fledged idea and a mission to do better for kids.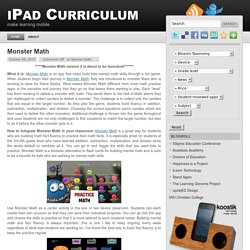 Constitution Day
A statement of a learning objective contains a verb (an action) and an object (usually a noun). The verb generally refers to [actions associated with] the intended cognitive process. The object generally describes the knowledge students are expected to acquire or construct. (Anderson and Krathwohl, 2001, pp. 4–5) The cognitive process dimension represents a continuum of increasing cognitive complexity—from remember to create. Anderson and Krathwohl identify 19 specific cognitive processes that further clarify the bounds of the six categories (Table 1).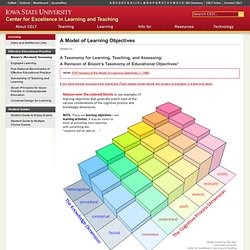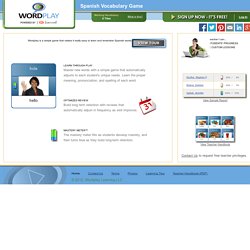 Wish Wordplay covered other subjects? Check out our new site - BrainRush! Spanish Vocabulary Game Share on facebookShare on twitterShare on pinterest_shareShare on emailShare on linkedinShare on google_plusone_share Log In Working Vocabulary0 Tiles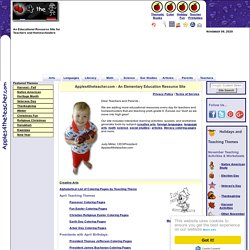 Dear Teachers and Parents - We are adding more educational resources every day for teachers and homeschoolers that are teaching preK-grade 6. Excuse our 'dust' as we move into high gear!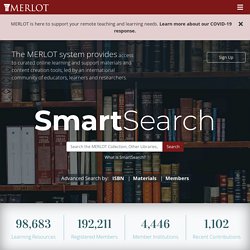 Return to MERLOT II Home Page Search all MERLOT Click here to go to your profile Click to expand login or register menu Select to go to your workspace