Webapps
Features - Webnode. Webnode is a tool for the fast and easy creation of web sites.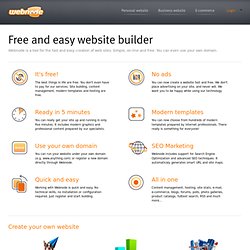 Simple, on-line and free. You can even use your own domain. It's free! Unsubscribr | Easily unsubscribe from junk and bulk email. Google Drive Is Alive: 5GB of Free Dropbox-Like Storage on Google's Servers. Sniptastic! Use Google Docs to Monitor Your Website's Uptime. Replyz. How to Monitor your Website Uptime with Google Docs - Tutorial. Learn how to use Google Docs as a free website monitoring tool and receive instant email and SMS text alerts when your website goes down.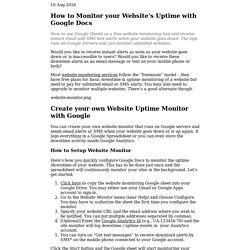 Do you have a website or a blog? Would you like to receive instant alerts as soon as your site goes down or becomes inaccessible to users? Would you like to receive these downtime alerts as email, text messages on your mobile phone, or both? Most website owners use "freemium" website monitoring services to track the downtime and uptime of their sites. These service offer free plans but are often required to upgrade to the premium version for unlimited email or SMS alerts or if you would like to monitor a large number of websites. Screenleap: One-Click Screen Sharing Without Any Signup. A lot of applications and instant messaging software allow you to share your screen with others, but the problem is, not everyone uses the same applications.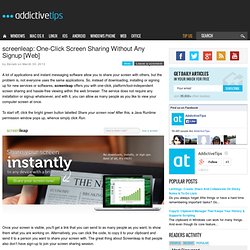 So, instead of downloading, installing or signing up for new services or softwares, screenleap offers you with one-click, platform/tool-independent screen sharing and hassle-free viewing within the web browser. The service does not require any installation or signup whatsoever, and with it, you can allow as many people as you like to view your computer screen at once. To start off, click the bright green button labelled Share your screen now! After this, a Java Runtime permission window pops up, whence simply click Run. Once your screen is visible, you'll get a link that you can send to as many people as you want, to show them what you are working on.
Backup
Memoires. Product and Features. Scan Your Inbox. Minutes.io — the best meeting tool since pen & paper* Symform: Shared Cloud Backup Solution With 200 GB Free Storage Space. Cloud storage services are nothing new to the world of technology anymore, and every other day, we see a new entrant in this rather populated market.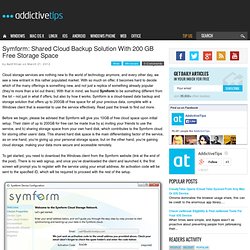 With so much on offer, it becomes hard to decide which of the many offerings is something new, and not just a replica of something already popular (they're more than a lot out there). With that in mind, we found Symform to be something different from the lot – not just in what if offers, but also by how it works. Symform is a cloud-based data backup and storage solution that offers up to 200GB of free space for all your precious data, complete with a Windows client that is essential to use the service effectively. QR Code Generator from the ZXing Project.
---