Webapps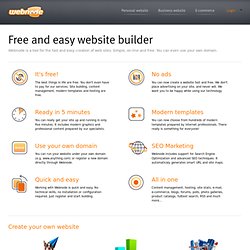 Webnode is a tool for the fast and easy creation of web sites.
features - Webnode
Unsubscribr | Easily unsubscribe from junk and bulk email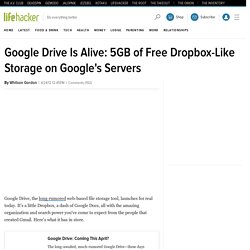 Google Drive, the long-rumored web-based file storage tool, launches for real today. It's a little Dropbox, a dash of Google Docs, all with the amazing organization and search power you've come to expect from the people that created Gmail. Here's what it has in store.
Google Drive Is Alive: 5GB of Free Dropbox-Like Storage on Google's Servers
Sniptastic!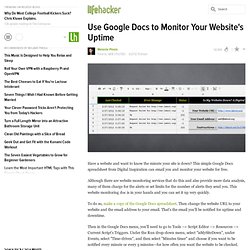 Use Google Docs to Monitor Your Website's Uptime
Have a website and want to know the minute your site is down?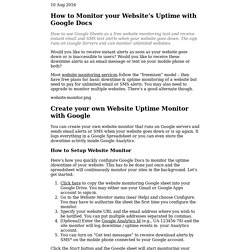 Do you wish to receive an email alert as soon as your site is down? You can use Google Docs to monitor your site's uptime and downtime without any limits.
screenleap: One-Click Screen Sharing Without Any Signup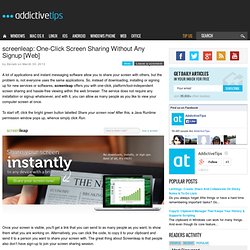 A lot of applications and instant messaging software allow you to share your screen with others, but the problem is, not everyone uses the same applications. So, instead of downloading, installing or signing up for new services or softwares, screenleap offers you with one-click, platform/tool-independent screen sharing and hassle-free viewing within the web browser.
Memoires
Product and Features
Scan Your Inbox
Symform: Shared Cloud Backup Solution With 200 GB Free Storage Space
Cloud storage services are nothing new to the world of technology anymore, and every other day, we see a new entrant in this rather populated market.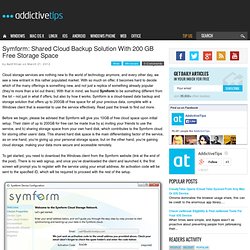 YouTube Converter Adds MP3 & MP4 Download Buttons Within Chrome