Software
Safecopy Recovers Data from Hard Drives and Other Media, Keeps Working When Other Tools Give Up
Ever found yourself required to make flowcharts, network diagrams, circuit sketches and more at work or for studies? Dia is a strong and very powerful application meant for all such occasions. Presentations are a particularly powerful tool to communicate your ideas, and at times, plain old text is just boring. So, for those of you who have a tough time creating diagrams in MS Power Point or MS Word, Dia will make it much easier for you to convey your ideas, with an elaborate set of preset tools that are custom made for a plethora of subjects.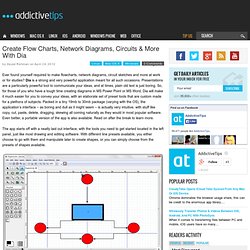 Create Flow Charts, Network Diagrams, Circuits & More With Dia
On this page, you will find the best portable apps to bring with you on the go. We've taken the effort to categorize all of the portable apps and picked only those we believe to be the best ones and which will most likely be useful to you. You can download and install these on a USB stick, an external hard drive, or any other portable device that you carry with you. That means that you can have any of these apps no matter where you go.