Cooking
30 Minute Meals Recipes
Quick Chick and Noodle Soup Recipe : Rachael Ray : Recipes
Ingredients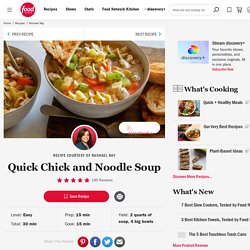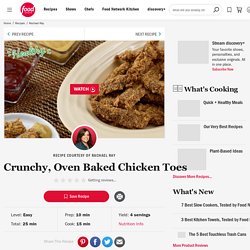 Age level: 4 to 6 years Skill level: beginner Ingredients 1 cup corn flakes 1 cup plain bread crumbs 2 tablespoons brown sugar 1 teaspoon salt 1/2 teaspoon black pepper 1/2 teaspoon ground allspice - the SECRET ingredient 3 tablespoons vegetable oil 1 1/2 pounds chicken breast tenders, 2 packages, cut into 2-inch pieces by GH (Grown-up Helpers) 1/3 cup all-purpose flour 2 eggs, beaten 1/4 cup honey mustard (recommended: Gulden's) 1/4 cup barbecue sauce
Crunchy, Oven Baked Chicken Toes Recipe : Rachael Ray : Recipes
Efficiency expert Rachael Ray saves time without skimping on flavor.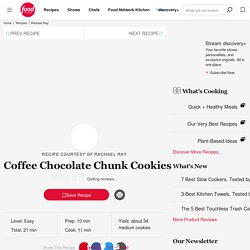 Kahlua Chocolate Chunk Cookies Recipe : Rachael Ray : Recipes
Ingredients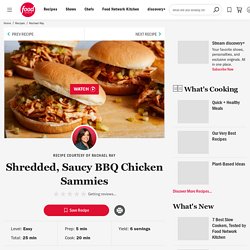 Shredded, Saucy BBQ Chicken Sammies Recipe : Rachael Ray : Recipes
Ingredients 1 pound chicken tenders Salt and pepper 3/4 pound chorizo sausage, in packaged meats case near kielbasa 2 tablespoons extra-virgin olive oil 3 cloves garlic, smashed 1 red bell pepper, chopped 1 medium onion, chopped 6 small red potatoes, diced 1 (15-ounce) can fire roasted chopped tomatoes (recommended: Muir Glen) 1 (15-ounce) can dark red kidney beans, drained 2 teaspoons hot sauce 1 quart chicken stock 1 sack red or blue corn tortilla chips 2 cups shredded pepper jack or smoked Cheddar Suggested garnishes: chopped scallions, chopped cilantro or fresh thyme leaves Directions
Chicken, Chorizo and Tortilla Stoup (Stew-like Soup) Recipe : Rachael Ray : Recipes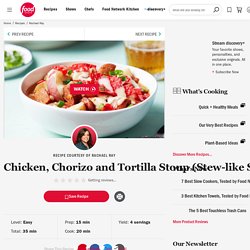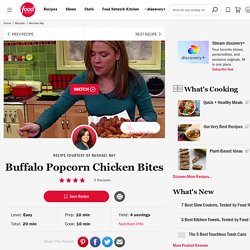 Buffalo Popcorn Chicken Bites Recipe : Rachael Ray : Recipes
Ingredients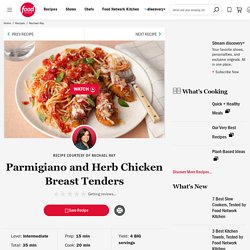 This recipe is so versatile: serve these tenders hot or cold. Cold, pair them with pasta salad. Hot, they're good as is with a simple mixed green salad.
Parmigiano and Herb Chicken Breast Tenders Recipe : Rachael Ray : Recipes
Mac and Cheddar Cheese with Chicken and Broccoli Recipe : Rachael Ray : Recipes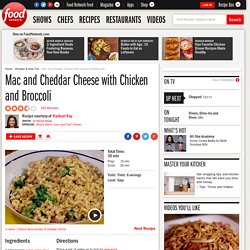 Ingredients
Garlic Roast Chicken with Rosemary and Lemon Recipe : Rachael Ray : Recipes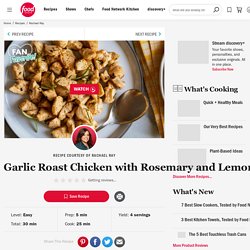 Ingredients 2 1/2 pounds boneless, skinless chicken breasts, cut into large chunks 6 cloves garlic, crushed 3 tablespoons fresh rosemary leaves stripped from stems 3 tablespoons extra-virgin olive oil, eyeball it 1 lemon, zested and juiced 1 tablespoon grill seasoning blend (recommended: Montreal Seasoning) or, coarse salt and black pepper 1/2 cup dry white wine or chicken broth Directions
Mexican Lasagna Recipe : Rachael Ray : Recipes
Ingredients
See Brooke Cook: Irish Carbomb Cupcakes
Okay, before we get started with this amazingly delicious recipe I have to say (since Deb from SK caught so much flack in her comments), I did NOT name the drink these cupcakes are derived from and it is not meant to be offensive in any manner. Moving on, I first encountered this amazing creations a couple of years ago while searching for the perfect birthday cake for my husband (then fiance, no wonder he married me, right?). I made them then and I am pretty sure he has mentioned something about me making them again every couple of months or so since then.
Pudding Shots! | Finding Silver Linings
I've been wanting to do this post for months and thought I lost the photos I took during the last computer melt down. (Happy to report our computer is up and running!!) Well, it turned out that I have them stored on my memory card!
10 Snacks Under 100 Calories - YouBeauty.com - StumbleUpon
Thinkstock Preparation: In a food processor, combine garlic and cannellini beans with lemon juice and process until smooth.
9 Boozy Variations 1.
Cupcakes With Alcohol - How To Bake Alcohol Cupcake
Holiday Entertaining: Heavenly Holiday Desserts - Martha Stewart
My Fridge Food - Recipes you already have in your Fridge
Chocolate Cream Pie II Recipe