Cooking
30 Minute Meals Recipes. Quick Chick and Noodle Soup Recipe : Rachael Ray : Recipes. Crunchy, Oven Baked Chicken Toes Recipe : Rachael Ray : Recipes. Directions Have your GH (Grown-up Helper) turn the oven on to 375 degrees F.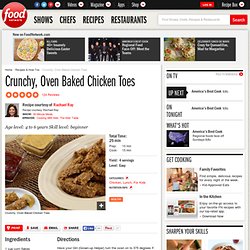 In a pie pan or other shallow, large dish, pour out the corn flakes. Crush the cereal up with your hands. Kahlua Chocolate Chunk Cookies Recipe : Rachael Ray : Recipes. Shredded, Saucy BBQ Chicken Sammies Recipe : Rachael Ray : Recipes. Chicken, Chorizo and Tortilla Stoup (Stew-like Soup) Recipe : Rachael Ray : Recipes. Buffalo Popcorn Chicken Bites Recipe : Rachael Ray : Recipes. Directions In a deep sided skillet heat 1 1/2 inches of vegetable oil over medium heat.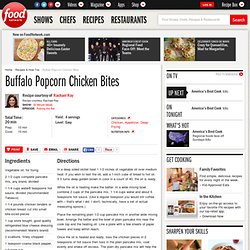 If you wish to test the oil, add a 1-inch cube of bread to hot oil. If it turns deep golden brown in color in a count of 40, the oil is ready. While the oil is heating make the batter. Parmigiano and Herb Chicken Breast Tenders Recipe : Rachael Ray : Recipes. Directions Breading: Preheat oven to 350 degrees F.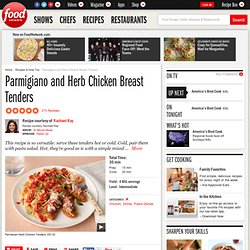 Place a nonstick cookie sheet in oven with a tin foil liner. Heat 1/2-inch oil in a large nonstick skillet or frying pan over medium to medium high heat. Season chicken tenders with salt and pepper. Mac and Cheddar Cheese with Chicken and Broccoli Recipe : Rachael Ray : Recipes. Directions Place a pot of water on to boil for macaroni.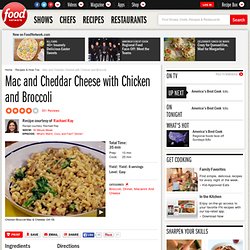 Heat a medium pan over medium to medium high heat. Add extra-virgin olive oil and chicken and season with salt and pepper. Saute a couple of minutes then add onion and cook another 5 to 7 minutes until onions are tender and chicken is cooked through. Garlic Roast Chicken with Rosemary and Lemon Recipe : Rachael Ray : Recipes. Mexican Lasagna Recipe : Rachael Ray : Recipes. See Brooke Cook: Irish Carbomb Cupcakes. Okay, before we get started with this amazingly delicious recipe I have to say (since Deb from SK caught so much flack in her comments), I did NOT name the drink these cupcakes are derived from and it is not meant to be offensive in any manner.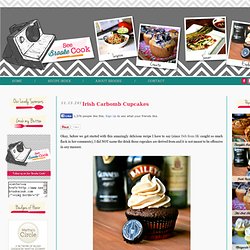 Moving on, I first encountered this amazing creations a couple of years ago while searching for the perfect birthday cake for my husband (then fiance, no wonder he married me, right?). I made them then and I am pretty sure he has mentioned something about me making them again every couple of months or so since then. Pudding Shots! | Finding Silver Linings. I've been wanting to do this post for months and thought I lost the photos I took during the last computer melt down.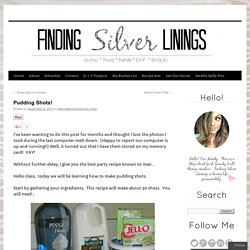 (Happy to report our computer is up and running!!) Well, it turned out that I have them stored on my memory card! 10 Snacks Under 100 Calories - YouBeauty.com - StumbleUpon. Thinkstock Preparation: In a food processor, combine garlic and cannellini beans with lemon juice and process until smooth.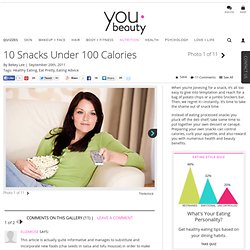 Mix in oil, cumin, chili powder, salt and pepper and process until blended. Add 3 tablespoons cilantro and pulse until mixed. Place in bowl and garnish with cilantro. Preparation: Mash avocados with a fork or potato masher in a medium bowl. Cupcakes With Alcohol - How To Bake Alcohol Cupcake. 9 Boozy Variations 1.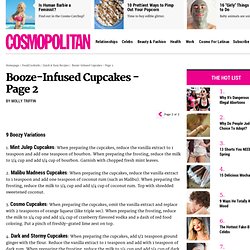 Mint Julep Cupcakes: When preparing the cupcakes, reduce the vanilla extract to 1 teaspoon and add one teaspoon of bourbon. When preparing the frosting, reduce the milk to 1/4 cup and add 1/4 cup of bourbon. Garnish with chopped fresh mint leaves. 2. Holiday Entertaining: Heavenly Holiday Desserts - Martha Stewart. My Fridge Food - Recipes you already have in your Fridge. Chocolate Cream Pie II Recipe.
---