Language Arts
Scriptwriting: A New Literacy
A new debate about whether computers can really edit essay tests is really about how writing can best be graded. Here to delve into that issue is Doug Hesse, professor and executive director of writing at The University of Denver. He is co-author (with Lynn Troyka) of "The Simon and Schuster Handbook for Writers" and of "Creating Nonfiction" (with Becky Bradway). He is also a past chair of the Conference on College Composition and Communication and a past president of the Council of Writing Program Administrators. By Doug Hesse

Washington Post
Nazi Concentration Camps (1945) WARNING : Very graphic
Brochure Common Core State Standards
The Official Site of Coach John Wooden | Sponsored by McDonalds | Powered by UnCommon Thinking
Headline: As Children's Freedom Has Declined, So Has Their Creativity. Biggest decline? Creative elaboration--expanding on ideas in novel and creative ways. Have we done this to children, with "eminently gradable" assignments? Josh Boldt, who teaches writing at the University of Georgia in Athens, shares his thoughts: College writing teachers hate the five-paragraph essay.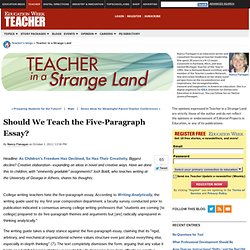 Should We Teach the Five-Paragraph Essay? - Teacher in a Strange Land
Encourage Authentic Writing With #WhatIWrite and #NaNoWriMo
Jennifer Ansbach Finished novels written by students in Jennifer Ansbach's class during National Novel Writing Month. Updated | Oct. 18, 2012 #WhatIWrite If you've been reading this blog for a while now, you may remember that last year at this time we were enthusiastic participants in a collaborative push to get as many people as possible to take to Twitter on Oct. 20, the annual National Day on Writing, and post messages with the hashtag #WhyIWrite . Thousands did, and it was a thrilling and memorable day for us, as students, teachers, novelists, poets, historians, journalists, comedians and ordinary citizens of all kinds posted thoughts to a vigorous stream. So, of course, we're doing it again, except this time our wise collaborator, The National Writing Project, suggested that the hashtag be #WhatIWrite , and that, because Oct. 20 is a Saturday, the day to post to Twitter be Friday, Oct. 19.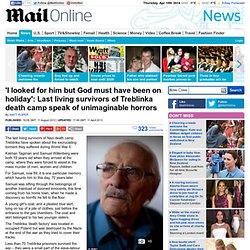 By Matt Roper PUBLISHED: 16:08 GMT, 11 August 2012 | UPDATED: 16:46 GMT, 15 August 2012 Never forget: Samuel Willenberg is haunted by his memories of Treblinka
Stories from Treblinka: Last two living survivors speak of horrors and haunting memories from Nazi death camp
30 Ideas for Teaching Writing
Summary : Few sources available today offer writing teachers such succinct, practice-based help—which is one reason why 30 Ideas for Teaching Writing was the winner of the Association of Education Publishers 2005 Distinguished Achievement Award for Instructional Materials. The National Writing Project's 30 Ideas for Teaching Writing offers successful strategies contributed by experienced Writing Project teachers. Since NWP does not promote a single approach to teaching writing, readers will benefit from a variety of eclectic, classroom-tested techniques. These ideas originated as full-length articles in NWP publications (a link to the full article accompanies each idea below). Table of Contents: 30 Ideas for Teaching Writing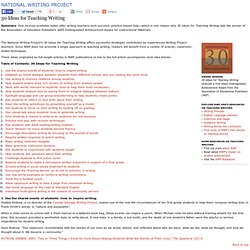 Teaching Grammar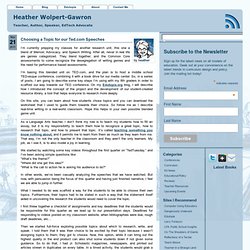 Choosing a Topic for our Ted.com Speeches
I'm currently prepping my classes for another research unit, this one a blend of Memoir, Advocacy, and Speech Writing. After all, never in real life are genres categorized. They blend together; and the Common Core assessments to come recognize the desegregation of writing genres and the need for performance based assessments.
Mentor Texts in the Digital Writing Workshop: Writer as Decision-Maker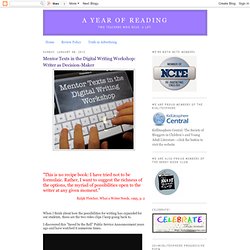 "This is no recipe book: I have tried not to be formulaic. Rather, I want to suggest the richness of the options, the myriad of possibilities open to the writer at any given moment." Ralph Fletcher, What a Writer Needs, 1995, p. 2 When I think about how the possibilities for writing has expanded for our students, these are the two video clips I keep going back to.
Voices from the Middle - Individual Issues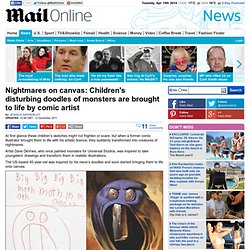 By Jessica Satherley UPDATED: 10:46 GMT, 12 December 2011 At first glance these children's sketches might not frighten or scare, but when a former comic illustrator brought them to life with his artistic licence, they suddenly transformed into creatures of nightmares. Artist Dave DeVries, who once painted monsters for Universal Studios, was inspired to take youngsters' drawings and transform them in realistic illustrations. The US-based 45-year-old was inspired by his niece's doodles and soon started bringing them to life onto canvas. Brought to life: The Monster Engine is an eight year art project by US comic illustrator Dave DeVries, which has grown into an internet phenomenon DeVries' niece Jessica would continuously leave sketches in his workbook, which kick-started the idea behind the artist's venture.
Nightmares on canvas: Children's disturbing doodles of monsters are brought to life by comic artist
The MY HERO Project
Robot hysteria in the 1930s (slide show)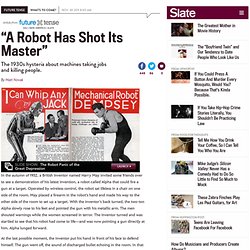 In the autumn of 1932, a British inventor named Harry May invited some friends over to see a demonstration of his latest invention, a robot called Alpha that could fire a gun at a target. Operated by wireless control, the robot sat lifeless in a chair on one side of the room. May placed a firearm in the robot's hand and made his way to the other side of the room to set up a target.
Write or Die is a web application that encourages writing by punishing the tendency to avoid writing. Start typing in the box. As long as you keep typing, you're fine, but once you stop typing, you have a grace period of a certain number of seconds and then there are consequences. Many people find themselves unable to write consistently.