Language Arts
Reed-Kellogg Diagrammer. Interactive Language Arts 7th grade practice for state assessment test.
Grammar Slammer--English Grammar Resource. Welcome to Grammar Slammer, the help file that goes beyond a grammar checker.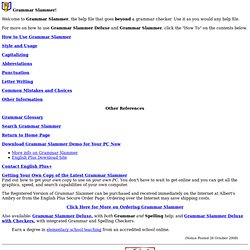 Use it as you would any help file. For more on how to use Grammar Slammer Deluxe and Grammar Slammer, click the "How To" on the contents below. Check Spelling, Style, and Grammar with After the Deadline. English Grammar Lessons. Parts of Speech.
Vocabulary/Word Study. Reading Websites. Student Interactives. Grammar Bytes! Grammar Instruction with Attitude.
---