Language Sites
The Top 10 Relationship Words That Aren't Translatable Into English | Marriage 3.0
Here are my top ten words, compiled from online collections, to describe love, desire and relationships that have no real English translation, but that capture subtle realities that even we English speakers have felt once or twice. As I came across these words I'd have the occasional epiphany: "Oh yeah! That's what I was feeling..." Mamihlapinatapei (Yagan, an indigenous language of Tierra del Fuego): The wordless yet meaningful look shared by two people who desire to initiate something, but are both reluctant to start.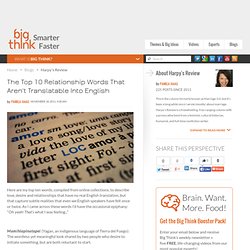 http://www.grammar.net/wp-content/uploads/2011/04/misunderstoodwords-623x1024.jpg
spanish cognates
English as Second Language Sites
Best FREE Language Learning Courses: iPad and Online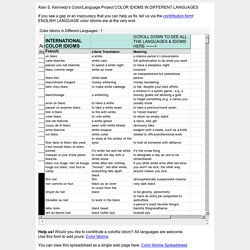 Alan S. Kennedy's Color/Language Project If you see a gap or an inaccuracy that you can help us fix, tell us via the contribution form! ENGLISH LANGUAGE color idioms are at the very end. Help us!