File Sharing, QR Codes and collaboration
A Web Whiteboard is touch-friendly online whiteboard app that lets you use your computer, tablet or smartphone to easily draw sketches, collaborate with others and share them with the world. Works on all modern browsers, no installation needed. Start drawing Want a whiteboard on your site?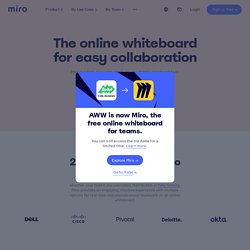 The Three Ring Growth and Success Platform allows students and teachers to quickly collect qualitative evidence of learning. It's seamless to organize it, share it with the correct administrators, parents, or students, and build a dynamic running record of growth in any subject. Districts and schools are using Three Ring with 1-1 programs, BYOD, and for project-based-learning, performance tasks, flipped classrooms, portfolios, and more. Contact us now at (678) 296-6003 to learn how Three Ring can boost instruction, professional development, and parent communication in your district.