Interactive White Board
2 column notes. The #ASEChat Interactive Science Links Summary. Monday evening saw my first attempt to moderate a twitter chat as I took the reigns of the #asechat hashtag for an hour.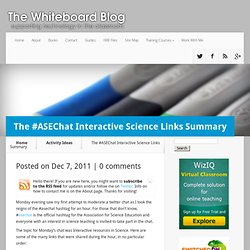 For those that don't know, #asechat is the official hashtag for the Association for Science Education and everyone with an interest in science teaching is invited to take part in the chat. The topic for Monday's chat was Interactive resources in Science. Here are some of the many links that were shared during the hour, in no particular order: Phet Science Simulations : Freezeray : Triptico | Inspiration for Imaginative Teachers. Freezeray.
---