arts
Get flash to fully experience Pearltrees
ColorCombos When designing a website, one of the firsts (and most important) steps of the process is to choose a color scheme. Color Combos allow you to browse thousand of different colors combinations for getting inspired for your upcomming design. Color schemes can be browsed by colors.
Online Generators for Web Designers can be a great way to save time in your web design projects. High-quality generators can create graphics or code or even layouts in a matter of seconds or minutes, things that might take an hour or more if done by hand. Online generator are those tools that help us to create those popular "XHTML valid" CSS banners, micro buttons or css website templates in seconds. In such cases online generators can be of great help which do the necessary job and some tools don't have to be downloaded also.
Through the use of brushes and various combinations of often pastel and neutral colors, creating that digital watercolor style in Photoshop can be a fun and rewarding experience. If you're interested in creating this technique, try following along with one of the many tutorials listed below. To help you gather resources, I've also included 15 of some of the best Photoshop watercolor brush sets available, located just below the tutorial roundup. Enjoy! Photoshop Watercolor Tutorials In an effort to only bring you the best watercolor tutorials available, I spent quite a bit of time hunting down the collection below.
This time we are bringing you a lot of Photoshop tutorials on all sorts of topics. It's meant to be a good collection for those who aren't quite pro yet, but want to be. From making amazing business cards to bringing a stone statue to life, these take us through hours and hours of practicing those skills. These tutorials are some of the best and varied out there. If you learn to master some of the techniques and tricks from these, you will be sure to land on your feet looking like a pro!
These are advanced techniques that require more than just technical knowledge of Photoshop, they require talent, Photoshop training, knowledge of design, layout, balance, color theory, etc. I hope you find these techniques inspiring and helpful. UPDATE: If you like these tutorials, you might love this: 60+ (more) Advanced Photoshop & GIMP Tutorials Text-effects: Movie techniques: Vector effects:
This article features a huge amount of Photoshop web design tutorials, which will teach you simple effects which can be combined together in order to create a great website design. Theses tutorials are perfect for first time Photoshop users because there short and sweet. I hope you enjoy the article and feel free to leave a comment below. you'll learn how to make this sleek layout with a carbon fiber background that would look great as a landing page for a website.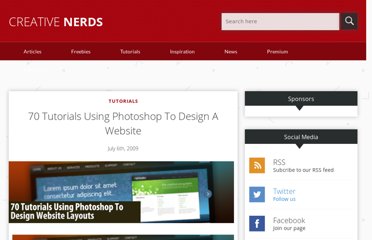 In this tutorial I'll show you how to create a textured web layout, starting from the concept on paper to Photoshop design. We will discuss about site structure and will use the 960 grid to organize our contents. Also you will learn how to use layer styles to create an engraved text effect. Give it a try! Preview Become a Premium Member and get unlimited access to source files and premium resources for only 7$/month.