Fiction
From a world only reachable through fantasy
Manup.jpg (JPEG Image, 800x566 pixels) Rocksteady by DaveRapoza - David Rapoza. Calvin-and-hobbes-christmas1.jpg (600×189) Gandalfordumble.png from geeksaresexy.net - StumbleUpon. Magnito Toddler. Batman and Ironman. Spotlight: Batman.
In The Spotlight is a weekly showcase of art created with a particular iconic character in mind.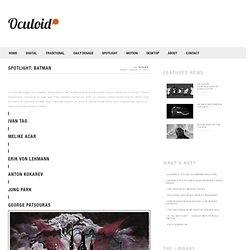 These characters, fictional or real, are from famous literature, film, or various other forms media. What they all have in common is that they have an impact on artists and provide them with inspiration. Enjoy a new showcase every Friday! Ivan Tao. Smash_Bros__by_Robotpencil.jpg (900×453)
The Best Illustrations of 2010.
Harry Potter. Starwars. Disney. The legend of Zelda. Trolls. Brother Grimm. 20 Pokemon Re-Imagined by an Artist. Tumblrld1zu8uigd1qbi1djo11280. Zoom.gif (640×367)
---