Chrome
Window Expander For YouTube
Chrome « TweetDeck - Your social world, centre stage
Turn Off the Lights
SmoothScroll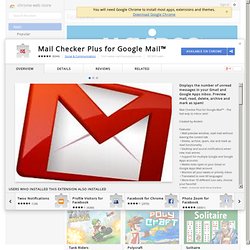 Mail Checker Plus for Google Mail™
Displays the number of unread messages in your Gmail and Google Apps inbox. Preview mail, read, delete, archive and mark as spam! Mail Checker Plus for Google Mail™ - The fast way to inbox zero!
Mail Checker Plus for Google Mail™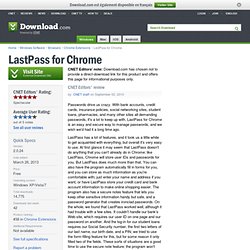 LastPass for Chrome - Free software downloads and software reviews - CNET Downloads
CNET TechTracker will now automatically install software without requiring further action by you. (Note: This feature automatically accepts associated EULAs and third party applications on your behalf.) You have selected the following software to Smart Install: CNET TechTracker will attempt to install this software without interrupting you again.
Hover Zoom
Extensions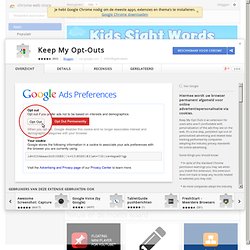 Versie: 1.0.15Laatst bijgewerkt: 27 juni 2013Grootte: 70.89KBTalen: Bahasa Indonesia, Deutsch, English, English (UK), Filipino, Français, Nederlands, Tiếng Việt, Türkçe, català, dansk, eesti, español, español (Latinoamérica), hrvatski, italiano, latviešu, lietuvių, magyar, polski, português (Brasil), português (Portugal), română, slovenský, slovenščina, suomi, svenska, čeština, Ελληνικά, Српски, български, русский, українська, עברית, हिन्दी, ไทย, ‫العربية, 中文 (简体), 中文 (繁體), 日本語, 한국어
Keep My Opt-Outs
Hide FB Questions
After the Deadline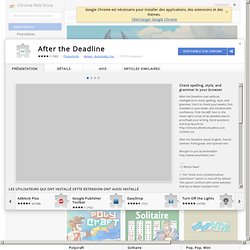 Check spelling, style, and grammar in your browser After the Deadline uses artificial intelligence to check spelling, style, and grammar. Use it to check your tweets, find mistakes in your email, and socialize with confidence.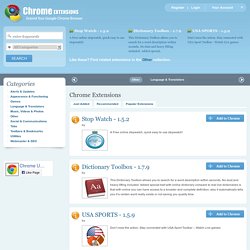 Stop Watch - 1.5.2 A Free online stopwatch, quick easy to use stopwatch! Free Language translation - 1.3.96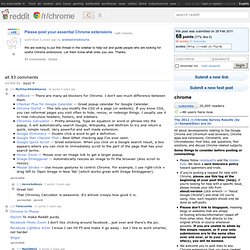 The 2012 /r/Chrome Survey Results (by /r/SampleSize) are in! All about developments relating to the Google Chrome and Chromium web browsers, Chrome apps and extensions, ChromeOS, and Chromebooks. Post links, ask questions, find solutions, and discuss Chrome-related subjects. Some things to consider before posting or commenting:
Please post your essential Chrome extensions : chrome
Make calls, send SMS, preview Inbox, and get notified of new messages. (US only) New: - Bug fixes. Extension Features: - Adds a button to the toolbar, which displays the number of unread messages in your Google Voice inbox. - Audible alert on new messages (can turn off in extension options). - Gives you quick access to your most recent messages with transcripts and voicemail playback. - Lets you initiate calls and send free text messages by just typing any number or contact name. - Makes phone numbers on websites callable via Google Voice by just clicking on them. - If a phone number doesn't turn into a link on any website (ex: Google Calendar), you can select the text with your mouse and the click to call popup will automatically display (note: might not work with all numbers). Info: - If you don't like the extension turning numbers into click to call links then you can turn it off in the extension options. - SMS is only available for accounts with a Google Number.
Voice (by Google)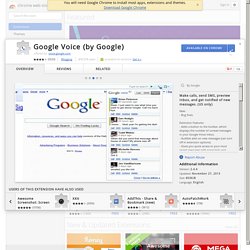 Chrome - The web is what you make of it