PLN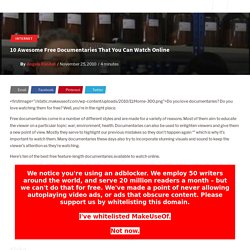 Free documentaries come in a number of different styles and are made for a variety of reasons. Most of them aim to educate the viewer on a particular topic: war; environment; health. Documentaries can also be used to enlighten viewers and give them a new point of view.
BSCcareers
BSCcareers
EchucaELearning - home
Please note this post has been updated and it is better to refer to our new "The Twitteraholic's Ultimate Guide to tweets, hashtags, and all things Twitter" post since: It is a more detailed post Includes an updated version of this post Covers additional topics. Here is where you'll find our new Guide to Using Twitter . Conferences can make you feel really overwhelmed and alone — especially at a conference like ISTE amongst 13,000 ed tech professionals participants who attend each year. But never for a twitterer.
A Twitteraholic's Guide to tweets, hashtags, and all things Twitter
bsc_PLN
Your Personal Learning Network