Crafts
How to Make Clothing Buttons from Shrink Plastic… This tutorial is an old one of mine that's too good not to share again.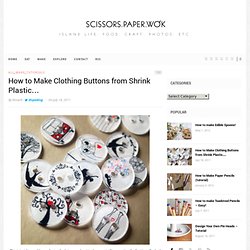 Since posting the first time, I've had lots of questions about these buttons which will hopefully be answered in this revised post. Equipment. New Uses for Old Things: Kids Edition. Stuff to Make in my Old Age / Paper medallion wall hanging. Made out of text book pages! Crafty Nest. You knew i was going to make one.
They are all over pinterest....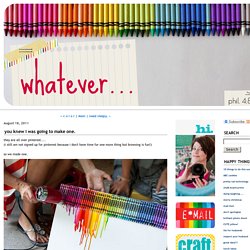 (i still am not signed up for pinterest because i don't have time for one more thing but browsing is fun!) So we made one. i took a box of 64 crayons and took out the blacks and browns.i used another small box and doubled up on the good colors i liked and hot glued them to the top of our canvas. Craft DIY Projects, Patterns, How-tos, Fashion, Recipes @ Craftzine.com - Felting, Sewing, Knitting, Crocheting, Home & More. Is Your Love Worthy Of Ridiculously Twee $3,450 Custom Wedding Invitation Viewmasters? Creative Wedding Guest Books | ohamanda.com. Welcome to ohAmanda!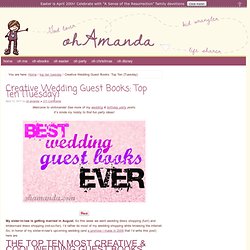 See more of my wedding & birthday party posts. It's kinda my hobby to find fun party ideas! My sister-in-law is getting married in August. So this week we went wedding dress shopping (fun!) And bridesmaid dress shopping (not-so-fun).
Paper-Doily Wreath - Introduction - MarthaStewart.com. A delicate-looking wreath that creates the magical effect of candles flickering in the snow is easy to make and surprisingly sturdy.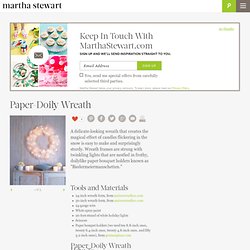 Wreath frames are strung with twinkling lights that are nestled in frothy, doilylike paper bouquet holders known as "Biedermeiermanschetten. " Tools and Materials. Tissue Paper Rosette Topiary. I love all of the Valentine's Day crafts I have been seeing everywhere in blog land.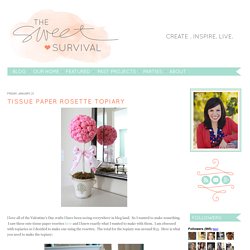 So I wanted to make something. I saw these cute tissue paper rosettes here and I knew exactly what I wanted to make with them. I am obsessed with topiaries so I decided to make one using the rosettes. Tutorial: How to Make a Pomander Flower Ball. Pomanders, or "Flower Kissing Balls" are gorgeous floral decorations at parties and weddings.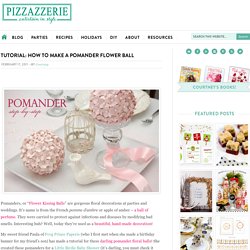 It's name is from the French pomme d'ambre or apple of amber – a ball of perfume. They were carried to protect against infections and diseases by modifying bad smells. Interesting huh? Well, today they're used as a beautiful, hand-made decoration! My sweet friend Paula of Frog Prince Paperie (who I first met when she made a birthday banner for my friend's son) has made a tutorial for these darling floral balls! DIY Leather Bow Cuff. Back in January wen I went thrift shopping with a bunch of awesome ALT ladies, I picked up a really rad bow-inspired belt.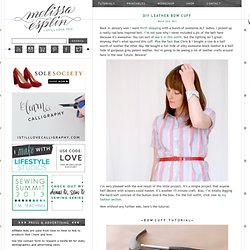 I'm not sure why I never included a pic of the belt here because it's awesome. You can sort of see it in this outfit, but the lighting isn't great.
High/Low Food/Drink: What to Do With Used Wine Corks (and a Trip Down Memory Lane) Have you ever enjoyed a bottle of wine with loved ones, and then kept the cork as a memento?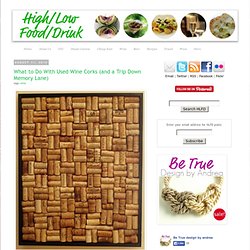 Well, we've done that for every bottle of wine for the past 2 years and collected them in a huge, tall, clear vase - which was now overflowing. (We weren't kidding when we said during the last post that we loved red wine!) So I decided to make a corkboard out of them. Megan Baehr (nonesuchgarden) My name is Megan Baehr.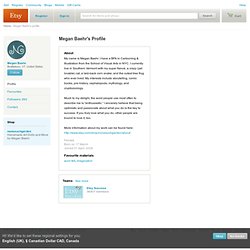 I have a BFA in Cartooning & Illustration from the School of Visual Arts in NYC. I currently live in Southern Vermont with my super fiancé, a crazy (yet lovable) cat, a laid-back corn snake, and the cutest tree frog who ever lived. My interests include storytelling, comic books, pre-history, cephalopods, mythology, and cryptozoology. Dandy the Lion Wool Felt Designer Plush Doll by nonesuchgarden. <div id="javascript-nag" class="notice"><p> Take full advantage of our site features by enabling JavaScript.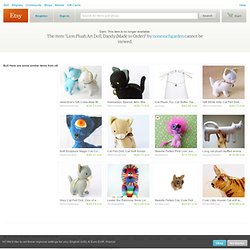 <a href=" more</a>. </p></div> Help. Minis. DIY - Tutorial - How to make a leather bow cuff bracelet. You will need : - A piece of leather, approx. 22cm x 10cm (approx. 8.7" x 4") - Scissors - Leather glue or super glue - Thread - A snap button 1. Cut an oval piece of leather, approx. 22cm x 10cm (approx. 8.7" x 4"). Most favorited last 7 days - page 2. Make-up Magnet Board. We all know with craft blogs that original ideas are often hard to come by, we find ideas we love and make them our own but we didn't come up with the idea ourselves.
I feel like I've finally done something original here and I'm excited about it. I'll show you the finished product and then explain. Behold my Make-up Magnet Board. Tuesday Tutorial: Paper Lantern Ornaments. Want a cute, simple decoration that you can make in minutes? These paper lanterns are perfect for the upcoming holiday season or as an everyday decoration! What a great way to add color to a room or to your holiday table :) Make a bunch and string them together as a garland, or put a bunch in a bowl, or in a hurricane glass in a bathroom or guestroom.
You could also mail them (flat, before unfolding them ;)) to a friend as a fun "Merry Christmas" gift with quick instructions on how to unfold them. I decided to use holiday paper, but was thinking these would also be fun as everyday decorations with leftover scraps of scrapbooking paper or found/vintage paper. Fun with plasti-dip « Fellow Creatives. Craft Meet-Up, Craftivity For our first meet-up the craft of choice was PLASTI-DIP , a rubberizing paint, normally used to coat tool handles and such. Inspired by beautiful plasti-dipped origami; my heart raced with the possibilities of all the chincey knick knacks that could be turned chic with one dip. Fellow creative Kelsey from Minted Life saw the same vision and a craft meet-up date was set. The cherry blossom lantern.
Build a Stone Bath Mat. Paper-Napkin Decoupage Eggs. Pop-out Photos Tutorial « Stitch-Craft. Wednes-diy | Free People Clothing Boutique Blog. Toilet Paper Roll Categorically Crafting Show. Home Work - The TP Flower Project. Paint Chip Wall Art. Tutorial: Homemade Sidewalk Chalk | oh my! handmade goodness. Make It and Love It: Glass Etching. Custom Knife Blades, Blade Grinds, Geometry, Steel Types, Finishes.
Woodworking. Shadow Box Photo Display for Photographers. Candles in Seashells -- Martha Stewart Crafts. DIY Terrarium Magnets: Make Your Own Tiny Vertical Garden! » Curbly | DIY Design Community « Keywords: DIY, Craft, Inspiration, vertical garden.
---