Adobe Illustrator
20 Basic Illustrator Tutorials Every Beginner Should See. Learning a new software application can be a daunting task, especially when tackling an application that's as deep as Adobe Illustrator!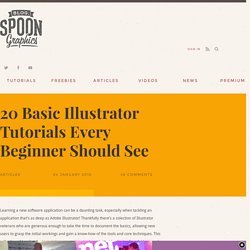 Thankfully there's a colection of Illustrator veterans who are generous enough to take the time to document the basics, allowing new users to grasp the initial workings and gain a know-how of the tools and core techniques. This collection of hand-picked tutorials cover various tools, and provide plenty of useful hints and tips. Together they form a super handy resource for any beginner looking to get their brains wrapped around Adobe Illustrator.
Learn Illustrator CS3 in 30 Days. Learn Adobe Illustrator: All the Basics for Beginners. A few weeks ago we published a post, Learn Photoshop, that included links to well over 100 resources for mastering the basics of Photoshop and the use of the various tools.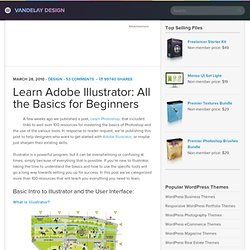 In response to reader request, we're publishing this post to help designers who want to get started with Adobe Illustrator, or maybe just sharpen their existing skills. Illustrator is a powerful program, but it can be overwhelming or confusing at times, simply because of everything that is possible. Fun with Illustrator's Lesser Known, Yet Powerful Tools  Fun with Illustrator's Lesser Known, Yet Powerful Tools If our freebies have benefited you personally or have helped you earn a profit please consider donating via paypal.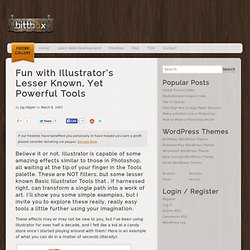 Donate Now Believe it or not, Illustrator is capable of some amazing effects similar to those in Photoshop, all waiting at the tip of your finger in the Tools palette.
---