Online Marketing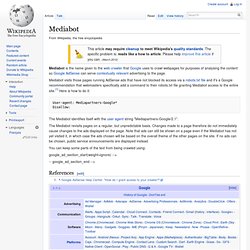 Mediabot
Mediabot is the name given to the web crawler that Google uses to crawl webpages for purposes of analysing the content so Google AdSense can serve contextually relevant advertising to the page. Mediabot visits those pages running AdSense ads that have not blocked its access via a robots.txt file and it's a Google recommendation that webmasters specifically add a command to their robots.txt file granting Mediabot access to the entire site.[1] Here is how to do it: User-agent: Mediapartners-Google* Disallow: The Mediabot identifies itself with the user agent string "Mediapartners-Google/2.1".
C Link Checker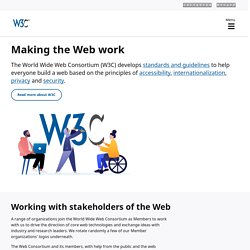 A reminder for people interested in the joint W3C/IAB "STRINT" workshop: The deadline for submitting position papers is Wednesday 15 January 2014. The workshop pages explain how to submit. The main theme of the workshop is pervasive monitoring and how (future) Internet protocols can be protected against it. See the workshop pages for additional topics and details. The STRINT (Strengthening the Internet Against Pervasive Monitoring) workshop will be held in central London, just before IETF-89, on Saturday March 1, and, if necessary, on the afternoon of Friday February 28. The workshop is organized by the STREWS project, with financial support from the European Union.
Blogs have been around for a long time. My creative services firm, acadia creative has had a blog for years…because everyone had one. What did we ever actually DO with it? Well. Nothing.
acadia creative DesignWise - Tips and tricks on design and marketing for your business.
Future of Online Advertising New York City, June 7-8. Do great things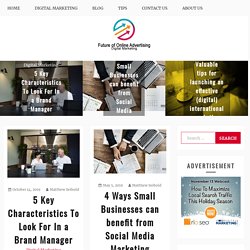 Future of Online Advertising
Oracle Oracle Solutions